Sunday, 7. January 2007
Follow Me.
Somehow, silly song texts are taking over my headlines.
I have moved my blog. I do not, however, know how to import all my posts, but I will investigate that in the days to come.
Please come over to see me at
Blogger.com
. Do not forget to change your bloglines :-)
Have a really nice day
/Lene
... link
Saturday, 6. January 2007
Happy Anniversary!
As mentioned in the jan. 3 post, I have recently celebrated an anniversary that means very much to me.
That it was one year ago that I realised just how fat I was, how much I loathed being like this - how much I loathed wobbling all over the place, my three chins, the unsexy and expensive clothing I was forced to buy. I had thought that I was OK with weighing 242,5 pounds until I somehow expanded crazily. Nothing fit anymore, and everything wobbled when I moved. I had become a fat, stranded whale.
I looked something like this: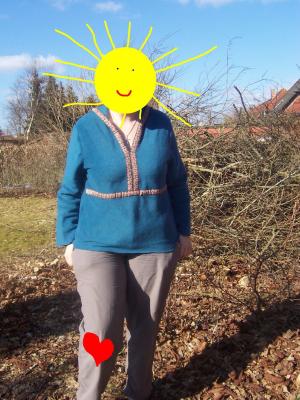 10 pounds down
It was heavenly. Granted, it took me some time and was very tedious at times with the diet I was following - no, not a diet, rather a lifestyle change that made me drop 2-3 pounds a week in a healthy way. When I went to Taiwan, I had lost 40 lbs. Since then, I have done nothing but try to live healthily and avoid too many snacks.
Now?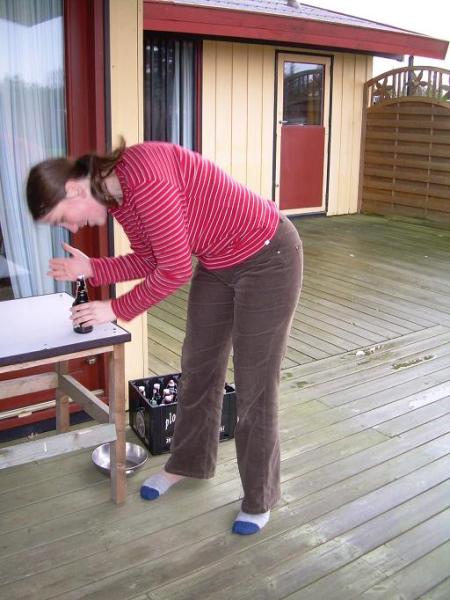 188 pounds - ignore the beer.... *grins*
I have also bought quite a few new clothing items - even a pair of pants in size *gasp* 14! (Nevermind that the goal is a 10, when I come from an 24). I have borrowed a pair of riding pants from my SIL in a size 14 too.
Which is also why one of the next projects to show up here on the blog will be from
Alice Starmore
: Aranmor!! A lovely, easy cabled sweater that I will make with the Jaeger Shetland Aran that i got on sale from the UK Ebay for 45$/10 balls, unopened pack, including postage.
Have a really nice day
/Lene
... link
Wednesday, 3. January 2007
Update from the cottage.
Right now and until the 7th of January, I am here at my parents cottage. It is nice to be here, and if I had brought enough to knit/craft, I would have knitted/crafted a lot...
I should not complain. I have knitted half of a large, elaborate scarf: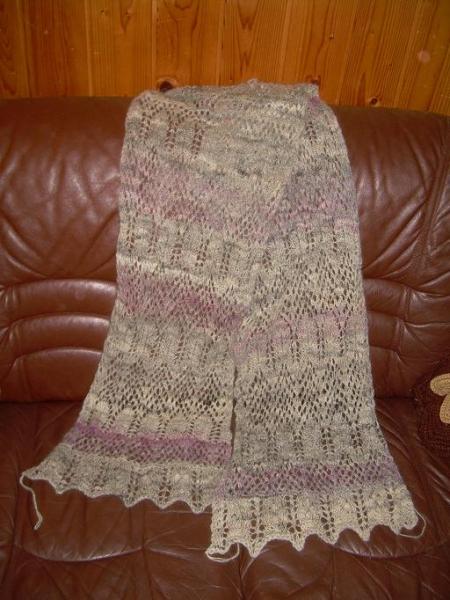 Dogs wool, silk, lambs wool, and various miscellanous merinos.
SOFT. Beautifull!
I had to respin twice, and recard once. The second half is a tad thicker, but I dont think that it is all that bad. I had just spun a batch for the fun of it, and am quite proud that I managed to knit it into a beautifull functional scarf. I had about, uh, 3 yards left over?
The only bad thing about this scarf is, that I did not finish it on my (imaginary) deadline. Which was midnight, december 31, 2006. It was finished at 00.15 AM, January 1, 2007 instead.
The pattern was a swedish, free online pattern, that I will not link to another time because it was literally riddled with errors, unreadable charts and counting mistakes that would make even a reconstruction based on the charts impossible.
Quilt Top
There are more crafty things around here. For example the squares I have mentioned earlier in the year, that I inherited from a friends wife - three handsewn squares, a pieced but not sewn together square, and fabric for another two (almost) squares.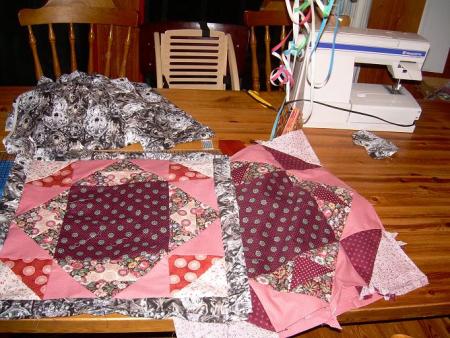 Being Crafty
Measuring the squares gave me measurements that I better not have trusted... My squares are 1 1/6 inch too little in each direction. (I added three fabrics that I bought in Taiwan to the new squares, and do sincerely love the result).
To remedy that, enter strips of my wolf fabric! Works like a charm. Later tonight, I will add triangles to the squares, rotating the squares 30 degrees to the left, and sew them together. That way the uncomfortable measurement of ½ yard square will become bigger and I can create a decent-sized quilt for an adult (instead of the young teen it was intended for, who is now 30), and still have room for a border or two.
I am by no means an expert quilter or patchworker, but I am taking this as an exercise in getting better. It will have a fat piece of batting inside. My mother gave me a nice, but thin, quilt when I moved out in 2002, and it will be nice to have a thick and cushy one, too.
The wolf fabric is one my mother gave me because I cleaned the house before christmas, when her cleaning lady called in sick. I have 230cm, or 2½ yards of it. GLORY. It will not be my backing fabric though, my mother has a purplish fabric that will fit. No sense in buying fancy fabrics for backing, as long as they are durable and not all too ugly or vibrant.
Have a really nice day. I do. I am celebrating a one year anniversary: I started losing weight jan. 3, 2006. That's a year and 50 pounds, and 5-6 sizes.
Lene
... link
Monday, 1. January 2007
Happy New Year
And a safe New Years ewe to you all and those who love you.

We have a bad storm and heavy rain, so we are all sitting inside here in our lovely cabin. The guinea pigs are talking to the dog who is chewing a dried pigs ear, the family is watching TV and I finished the handspun dogs wool blend scarf. It is a bit short, but wide. I did not, however, make it and finish it in 2006. I should not have sewn patchwork or made that handsewn toy.

The patchwork is squares for the handsewn squares I inherited from my best friend. They turned out very small, and we dont have a clue of what we did wrong!
I will edge it with another fabric, so nothing is lost, but nonetheless....

Next up: Sew a quilt top out of the squares and my favourite wolf fabric, and spin the excess carded wool for my scarf into a worsted weight yarn for thrummed dog wool mitts... Swoon.

Once again, have a happy new year and a blessed 2007.


/Lene
... link
Wednesday, 27. December 2006
The Holiday FO, take 1
I did it! I really did it. Knitting until 1am late in the night and finishing the seaming when the giftee is watching, but nevertheless, I did it.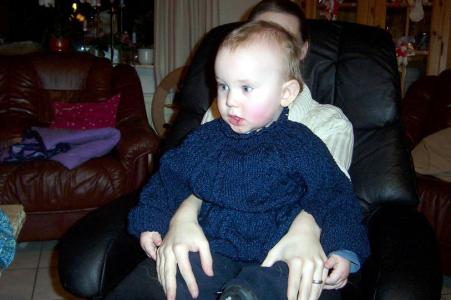 One year old, and soo big
It is quite long and narrow, but I hope that it will resolve itself when the Den-m-Knit yarn is washed in the washing machine. He got three sweaters for cristmass, and not one for his birthday. That is probably because we celebrated cristmas with him and his parents day after his birthday dec. 25.
I am very, very, very, very proud of this little sweater.
The cables flow nicely into each other, and the patterns fit well together. There are little details all through the sweater, like a "seam" purl stitch coming from the ribbing and going all up to the sleeves. Seamless joining in the armpits. The uber-cool cables that I managed to carry up into the raglan.... Those are my favourite.
I should probably tell here that I made it up all on myself. I only had a Gansey book, where I took the patterns from. (I love the texture pattern on the front much more than I have ever loved any heavily cabled front pattern). I decided on a raglan because this yarn shrinks lenghtwise, and I could not wrap my head around any other seamless style that would not cause the sleeves to sit funnily.
Weird Stuff That Happens In My Life
My little sister, 12 years, came down into the living room yesterday, in tears. She was holding her little hamster in her hand, and it laid on its back. "She's dead! She's dead!" (We just bought the critter on friday....). I asked her to give it to me, because it looked mightily dead, but I dont know... I considered trying to give it a heart massage, or something. Now comes the weird thing. It started to breathe when I took it in my hand! After a minute or so, it sat there, looking at me, washing its face, as if it was saying... Hey, what are you looking at? Do I look good?
Weeeeird. Hamster Revived.
Have a really nice day
/Lene
... link
Sunday, 24. December 2006
...And a very merry Christmas.
The turkey rests safe, marinating in my most favourite olive oil and garlic marinade. The potatoes are peeled. The presents rest underneath the tree. The tree itself is decorated with lights and many old favourites, handmade, bought, recieved as presents and so on. My favourite procrastination project, the Nephew Gansey, is joined at the arms and might just get finished until dec. 26.

Now just remains to prepare the turkey in the oven tomorrow, cook the potatoes, carrots and the "Rødkål" + the miscellanous, go to church and... Oh yes, enjoy.

We will, I am entirely sure of that.

Was christmas shopping with my little brother today - he had four presents, two of whom were ones we are sharing. I had imagined it to be a lot more hectic in the shops today, seeing as it is the last shopping day before christmas. We celebrate christmas on the evening of the 24th, and there is no such thing as "Open on Sundays" here. There is in Denmark, but they dont open on the 24th. Or the 25th. :-) He ended up with two DVD's, a toy car for the nephew and, amazingly enough, two very nice patchwork kits that he put together himself at my aunts quilt-shop.

I hope everyone will get just as nice gifts, and that nobody will have to sit alone whereever they are.

Have a really nice Christmas

/Lene
... link
Thursday, 21. December 2006
Poll.
What do you do when everything goes awry and you desperately need some shopping therapy?
Just a little questionnaire.
I figured out how to make polls today, and was really interested in how other people feel about "Comfort Shopping". I realise that not all (or for some, none) situations call for comfort shopping, but the cases that do are what I am thinking about here.
Referrer Fun
I very often get searches like "Estonian Wool Troll Doll". and "Denmark Nisse Picture" (Too bad my nisse picture is from Norway). Even "Lene Knit blog" often surfaces. Then there are the s*x-related ones that I wont go unto (Apparently, people in Mexico have something they call a "beautifull cutie").
At other times, it is funny to read the referrers. I am linked to at a swedish website dedicated to knitting, with a really neat link collection of 397 english blogs and lots of other stuff.
http://fruitcakeknits.weblog.us
Fruitcake Knits. I really like her lace knitting!
Aaand... the visits when I have gushed out on another blog again, in these days mostly
Jeans Miles Blog
. I Simply Adore her work.
Have a really nice day. I will go play organ for a kindergarten :-)
/Lene
... link
Wednesday, 20. December 2006
Heartbroken
I came back to my parents today to play at my little sisters christmas school party, which went quite well. I even got paid :-)
On another note, I think I almost broke my heart. The white and green sweater? With the blue snowflakes? I had tried to unshrink it by soaking it in milk as several people had recommended. My mother went up and found green stuff growing on it.. EWWW... So she washed it, twice, in her washer. Laid it out.
It had felted :-(((( Much more than previously. It must have been the washing two times in a row thing, or the milk, or something, I dont know. I only know that it is very small now, and only fit for those with very little bust. So sad. I already loved that sweater, and never even got to wear it except for one little hour. Had it just been a plain st. st. sweater, but it had such elaborate cuffs and a beautifull band of snowflakes. It was so perfect, the white yarn lighted up and the dark green accentuated my face.
I am very wary of knitting another sweater now. That just hurts too much. Not just that the sweater is gone - the yarn is gone too. Would not have been so bad if I could have unraveled it. My mother offered me some other yarn, but it is not really her fault that it is unwearable, she just wanted to help me.
*Sigh*.. It is so hard.
But on a lighter note, the evening went really well, so I hope my next two assignments will also go by easily (A kindergarten sermon and a school sermon tomorrow and day after that). Maybe they will pay me. Maybe I will clutch my money and go to www.wollsucht.de and buy some luxurious yarn to pet and hold. I buy a lot of yarn that way. Comfort Food. Does not make you thick, and yields many happy hours. (Except for if you felt it...)
Maybe I will buy a skein of Noro Kureyon and knit a
Fake Isle
hat with it. Or some of the fat Evilla yarn she is carrying, to make thrummed mittens. Or some of the thick oneply stripey yarn in cool colours to make a felted baggie (Oh maybe not.. I still have almost a pounds worth of yarn knitted into a felted bag that turned out ridiculously huge even after hard felting). Maybe I will just end up buying some soft wool and take it into bed with me (which has been known to happen. I have to skeins of Evilla in browns and blues that I store in my nightstand).
Just talking about "Yarn Therapy" already makes me much happier, isnt that funny? It is good to know that I have money in my pocket (Adding last weeks earnt money to it I could buy a sweaters worth of almost any yarn). Yarn is always good, because it does not induce guilt. I mean - it does not make you fat, ugly, hurts you or does anything but insulate your flat and keep you happy, all the way from dream to yarn to WIP to FO. You could roll around in it, or lay on it, hug it, watch it, roll it into a ball repeatedly, stick your face into it. If need be, you can cry into a ball of yarn, punch into it, throw it through the living room (if you do not have any vases or such), stomp on it and slap it on the walls without harming it.
Have a nice day
/Lene "Writing Therapy"
... link
Tuesday, 19. December 2006
You tell me :-)
You scored as
Rita Hayworth
. You're the one who has the most fun. People are attracted to you because you don't pretend to be anything but what you are. You know you are attractive and like to play on that - which makes you even sexier. However, when it calls for you to be serious, like Rita, you need to know that only hard work will get succes.
... link
Monday, 18. December 2006
Early Christmas Present.
Or was it Late Housewarming Gift?
What it is or not, here is what it was: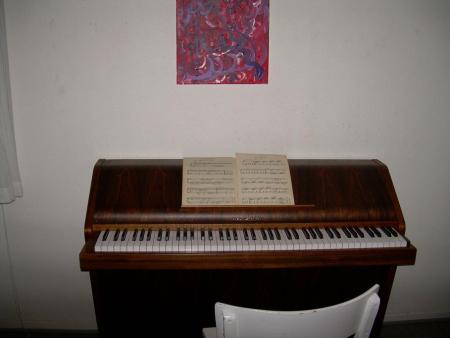 Miiiiine!
I absolutely love this piano, and it has an absolutely surprising sound for being so small. It was comissioned and paid in 1970 and built in 1971 - I can tell, because the original reciept and guarantee papers were still there, inside the piano. How cool is that?
It comes from a local millitary base that was closed down a few years ago. It stood in a heated office building and was only recently moved to an UNheated building (in the dentists room, of all places). I found it on the internet though. My mother paid half, and I paid half. Then there was the problem of getting it up my stairs that are a little steep and are a very sharp U shape. Problem solved: Two strong men, 90$ down their pocket, one hour of time and the piano stood where it should stand (included carrying it out of the basis, driving 10 miles to my home, carrying it up into my flat).
All in all, the piano has cost 700$. A steal! When I get back in january, I will spend another 100$ to get it tuned and inspected, and then I should be good to go. It is just a leeeetle out of tune.
I will also bring my own piano stool - stylish in black with black velvet, goes up and down and all that. It is just a little warped because I threw it on the floor, hard, once I was really pissed (about nothing).
I must be the worlds luckiest person. Absolutely. I have what I need, but I still have wishes and dreams, I am going on a road I want but still have endless stretches of wide open road in front of me.
Have a really nice day
/Lene
... link