Thursday, 6. April 2006
Sock-a-pal-ooza socks finished.
My parents invited me over to their cottage for the easter holidays - I do not yet know how long I will stay there, but it was the reason for my non-blogging yesterday. I will try to send some text-only posts as the old computer over there does not accept the camera.
I did try to photograph the Sock-a-paloooza socks today, and got one good shot - too bad the background is not entirely desirable.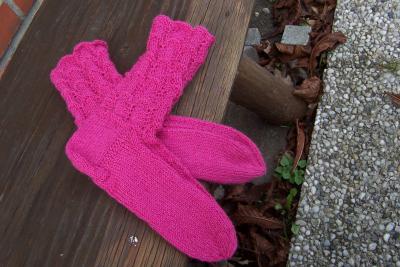 Blogger minimizes everything and fuzzes it out which is really a shame. I used a wave pattern and knit a womans med. size. The pattern I used was so mediocre I almost cant believe it.. sheesh. Good thing this pair of socks is not the first one I have knit, more like the 50'st :-)
Near my parents cottage lives a woman who has a small(ish) spinner's flock of 10 ewes with their lambs - currently around 25 animals. My mother went over there and picked up the fleece from a shep that she had also bought last year, but what a difference from the luscious sherling fleece to the even more wonderfull grey adult fleece! Three times as long, three times and beautifull and soft.
She also picked a fleece out for me - I had requested a "black" one, but sadly she only had one left, a very small one. After skirting it there are 1330 grams of it, but there was so much I'd have liked to throw out because it didnt meet my requirement of "perfection"! It will do, however, and bring me closer to "My Dream Aran" which is handspun out of black wool following either the
A.R.A.N.
pattern, or the
Son of ARAN
, but ultimately I think I might go with a large braid of honeycomb cable as the main, a few smallish cables in the sides (maybe a horseshoe cable?) and the
FLAK sweater
, because it has saddles... :-) I dont like horsehoe cables as the main motif. It will be black/brown (which is inevitable with sheeps wool, unless you dye it or go for Karakul or Såne, that might give you pure black.. its just that I dont like the feel of their wool). The wool I got isnt coarse at all, but I hope it will stand up to abuse - and give me the amount of wool I need.. :-)
Have a nice day
Lene