Tuesday, 25. April 2006
New things are good things.
My computer started doing funny (Read: Very Disturbing) things like going down at least 5 times a day, not opening my sites and refusing to load more than one page at one time. Understandable though, because in the past 4 years I have done nothing but to load new, weird programs on it...
It was erased 100% yesterday and I am now trying to restore it to its old "glory" (But without the crashing, please).
That was the first new thing, and the explanation for no blog entry in the past two days (Might also have something to do with that my mother had the camera with her.. sigh).
The mailman visited me too, and brought a few nice things.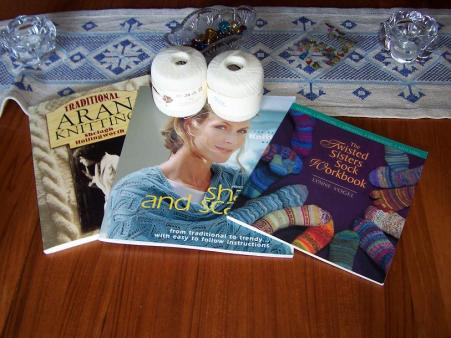 I have not included my mothers 4 50-gram balls of "Merino Lace" in Caramel (3000 metres!) for the "Magical Earth Shawl" from A Gathering of Lace, because she was quick and has already hidden them somewhere.
I ordered those three books from Amazon.de. The two balls of Cobweb Weight Yarn make me sleep good at night, after having been so scared I might run out of yarn on Rosebud. I bought two extra because you never know - and I could make a baby jacket out of one ball, or a sampler scarf.
The "Sock Sisters" book scares me a bit - all that colour, all that demanding creativity, all that displaying makes me feel small and inadequate. Aspergers is very un-creative and dislikes changes, but I want those socks and those yarns, so maybe that wanting will overcome my fear of all that creativity.
The Aran book is a wonderfull resource, and fits so nicely in with my penchant for old things and genuine sources. I am not going to write a lot about it right now, but when I get around to my "Handspun Aran Project" it will be around here a lot.
I had the most fun with the lace book. (I always seem to have the most fun with lace books!)
I found things I want to make: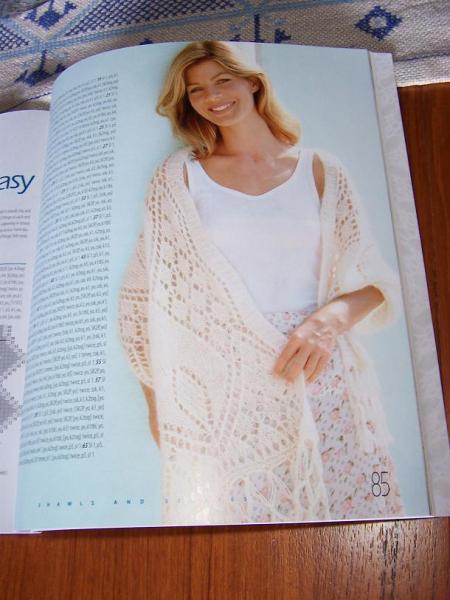 I started spinning for it: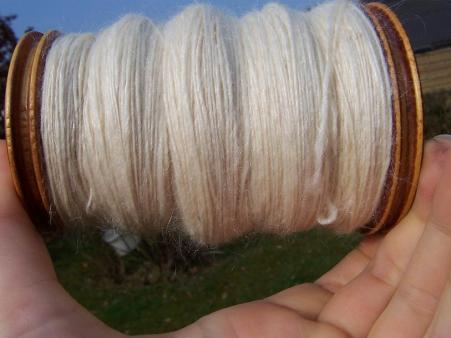 This is 30% Mulberry Silk, 70% Merino, and I got it from
WollKnoll
. I will ply it and hope that the yarn will be somewhere near DK weight - I wont fret too much about that however. My plan is to dye the finished yarn a soft dusty pink and light grey for an elderly woman.
Now, back to the book:
There were elaborate, but yet ugly things: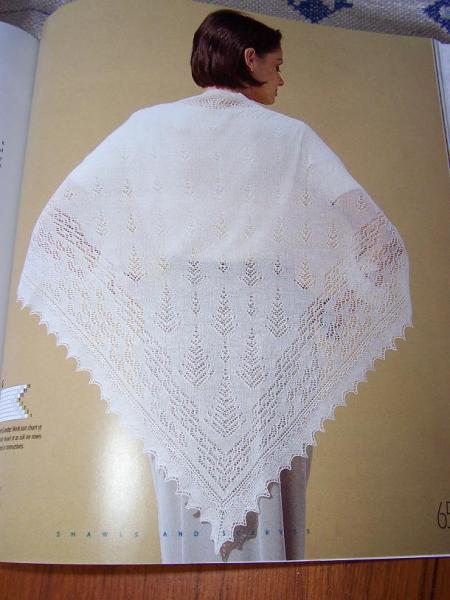 There are many shawls I could imagine knitting one day too - this one because it is unusual and I know just the right recipient for it.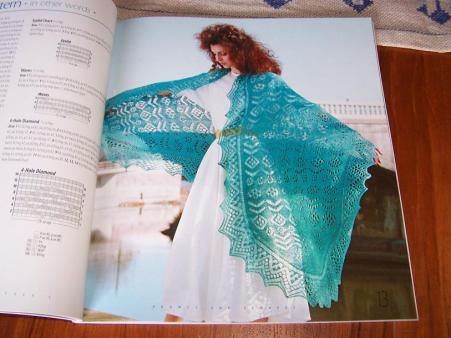 Are you tired yet?
Just one more picture before I stop, it is not even one I have photographed but it means a lot to me.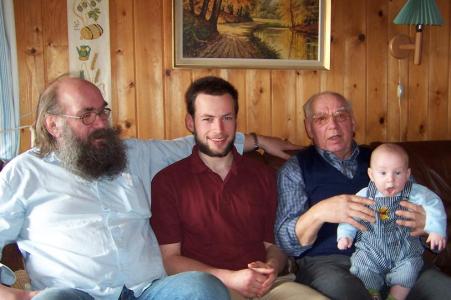 Four generations in our family, Greatgrandfather, Grandfather, Father and son.
Have a nice day
Lene