Sunday, 6. August 2006
Spin-in at the summer cottage.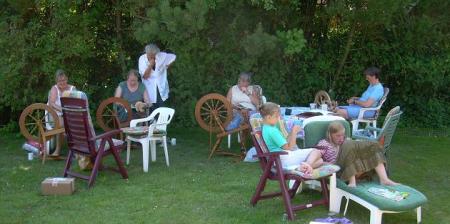 We had a wonderfull time in the garden
Five wonderful ladies showed up to a six hour long spin-in, complete with a wonderful brunch where everyone had brought something good - one had baked bread, one brought fruit, one brought cheese and so on.
One did not come for the brunch, but she brought something really good too: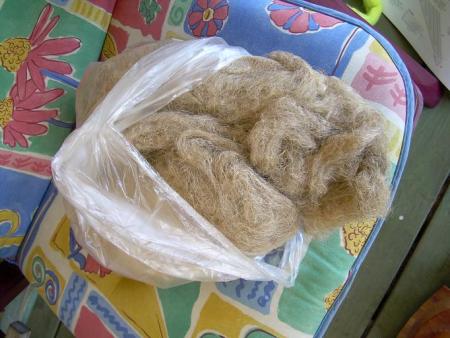 Unspun flax, a bag for one dollar!
She wanted to show us how to spin this - and it was really a blast. I learned to use water on your fingers, but it worked much better for me to work with dry fingers. It feels really weird thought when you spin it, because it has no spring and does not show the twist in it. I spun a 30 yard two ply skein, and marveled at it for the rest of the day :-)
The rest might get carded together with some regular sheeps wool (20/80) and spun into a sock weight yarn - maybe for a top or something else.
Single on a bobbin, flax
Last, but not least, Karin from Esbjerg was there too and she brought several things. She brought two presents - one for me and one for my mother - each containing around 300g wool dyed with blues, greens, yellows and turqoises. She dyed on two different colours of wool: White merino and natural grey merino. So rich, so pretty, and I am thinking it might become an "Ariadnes Jacket" from Spin-off (Summer 06? Maybe).
She also brought this mountain of wool: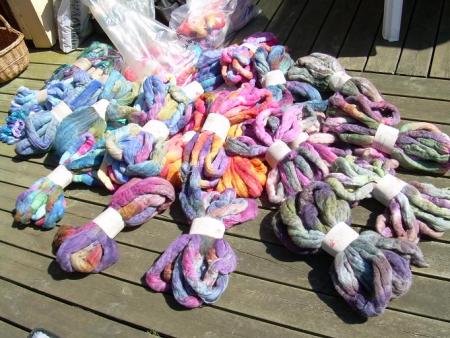 Silks, wools, and alpaca.
She is a very skilled dyer, and her colours have a brilliance that I adore. Sadly, her prices are not exactly affordadble, so I only bought two 200g skeins of overdyed grey merino wool, not the same dye lot but quite close to each other. 400g is enough to make something substantial, but what? I dont know. I only know that petting it is quickly eating up my knitting time :-)
A good time was had by all, and the last ones left just a few minutes shy of six after having arrived before 11 in the morning. It was just too much fun to say goodbye at five already. To top it all off, IK arrived!! We all gushed and oohed and aahed over the magazine, the first one I have ever held in my hand.
I fell Head-Over-Heals in love with the "Wanderlust Hoodie", and almost cried when I discovered that it used 22 balls of a bulky yarn, to be knit with a 7.5mm needle! I had so hoped that it would feature a worsted yarn, enabling me to spin a yarn for it. Plus, that I am not ever going to knit myself a sweater out of yarn that bulky (again). I still love the idea of a cabled hoodie, and I love that cable pattern, but I do not feel up to changing the pattern. I am not at the size I want to be (yet, another 35 pounds to go), and my gauge is a story on its own, which is why I only knit shawls at the time being :-)
Shawls are so good as confidence builders. You need not worry about gauge, fudging is allowed, they look very complicated and people think you are a knitting whiz for completing such feats. I never tell them that they are less complicated than a pair of socks - Really, some shawls are just rectangles with a 4-row-repeat! Unless I want to encourage them to knit shawls themselves, of course :-)
Have a really nice day
Lene