Tuesday, 15. August 2006
Did I say...
Did I say I MIGHT order some yarn from Lisa Souza? I ordered four skeins of her laceweight - two undyed hanks, one of whom will be dyed ice-blue, or light ice blue and dark (storm sky) blotches, for the "Snowdrift" stole, found at www.blackberry-ridge.com. The other has no destination yet, but will hold dreams for me until find the perfect item for it.
The two dyed skeins are one in "Old Gold" - from her Heathered Solids, and one skein of Sapphire, for my mother, also one of her "solids".
I love these yarns - and look forward to knit with them, even though they are Merino, and as such are destined to block badly and slouch back into unblocked shape quite quickly. I might just starch them when the day comes.
Did I say that I had no UFO's?
I have.
ONE.
That's not too bad, right? Though, on the Spinning front, I have an additional one, as the Shetland Humbug I wanted to spun one-ply is finished, and some if it is plied - it did not work out as a single ply. I must ply the rest. Eurgh.
I present:
Rosy Fingered Dawn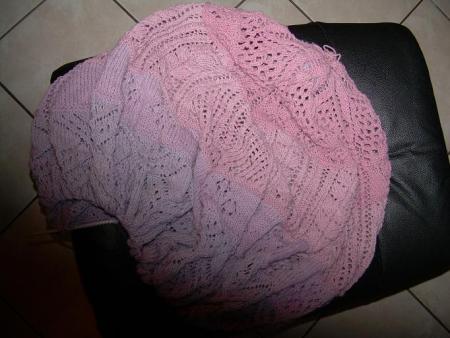 This kit is not even mine. I never got the payment information! I asked for it five times.
I dont like the yarn - is feels like it was made from bad wool, it breaks, it stretches weirdly, feels weird, and the colours are not to my liking. I had seen much more vibrant and glorious pictures of these colours! Finally at the two last colours though - means the edging and one last border repeat to go. I think it might be beautifull to see it finished one day, but I dont know how to finish it, as much as I loathe knitting it by now.
Did I say that I was unemployed and lived at my parents?
No more! I signed a contract for a flat of my own!! It is quite large, but has a really bad, small kitchen, making the appartment affordable for me. It is the entire top floor of a small house from around 1900, with a direct wiev to one of the most beautiful churches in Denmark, the churchyard and a forest.
It lies barely a minutes walk away from my school, in a very quiet neighbourhood, in one of the most rural (in the charming way) towns in all of Denmark. People are so friendly and make me want to be just like them - they show you the way, tell you the gossip, smile at you, pick up the stuff you drop because your are so loaded that you cannot breathe without losing half of your load.
Ah.. That kind of small-town life is right my style.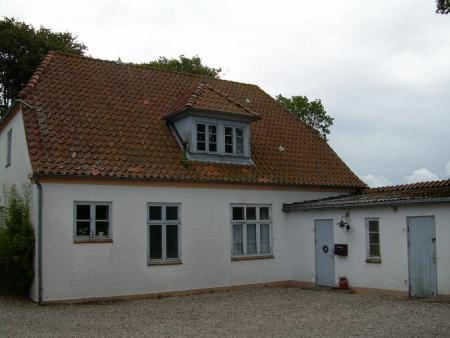 Right hand, my shed, top floor - my new appartment. Two-bedroom, absolutely rustic in the good way
Did I say I was unemployed? (I think I did, yes...)
Well, as of today I am studying to be an organ player. It might not sound of much to you - neither does it to me - but I guess being an organ player and studying once a week is more than sitting at home and crying out your eyes because you are not doing anything. Right now, I just feel quite inadequate because we were covering some theory today that I have never learned - but dang it if I would admit it. I just fought on. It does not make it better that I am by far the youngest, but as I said before - I will fight on :-)
Have a really nice day
Lene