Friday, 6. October 2006
Update
Well... It seems I managed to hide all batteries out of sight.
I think that the charger may be faulty - or maybe I am just too stupid to operate a simple charger? I tried four times to charge the same two batteries - brand-new, too, only used once. I went out and bought some normal batteries, but that does get expensive at lenght.
My mother and brother both have digital cameras though, so maybe they will share the wealth if I bring along my 1gig card?
There is so much I want to show.
The "Beatrice" (
Christening Shawl
) edging is all fine and finished - I finished it Monday, with three days to spare before Thursday where I had planned to end it. Wouldnt a month be a good timespan for the rest of the shawl, too? I am trying. Currently at 6 rounds, 3 pattern rounds. I just started the first round of flowers. I love this pattern and this
Yarn
! It will be very special once I finish it.
Also, my spinning projects. I have not spun a lot for a long time, but recently a group I belong to has gotten into
Kathryn Alexander
's methods, prompting me to do a few pratice and visualization test pieces. Very simple work, but it really got me kickstarted with the wheel again.
I have two sets of samples:
1) Wool, dyed, and 2) Tussah, undyed.
Then there is a sample of colourwork with a Z and an S plied thread. Interesting.
I have started to sort out my wool for the Handspun Sweater. Some lovely grey wool from my mother, and a 2lb bag of "Black Welsh". I decided that the black/brown sheep I got a fleece from was a "sitting on the porch and carding/flicking/picking" business, not a "Sitting inside in the winter on carpet floors" business.
Then there was this, which I got as a present earlier in summer: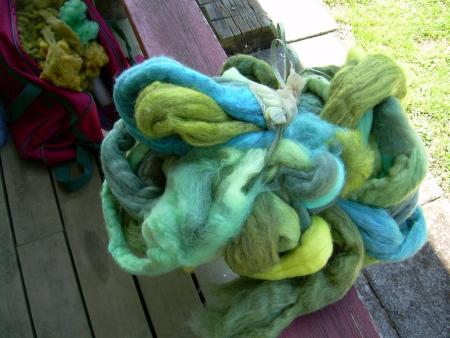 300+ grams of dyed Merino - originally grey and white, now turquoise, green and yellows.
I have spun roundabout half of this, and plied 1/3. I do it by taking quite big chunks of each colour, and just randomly spinning them, hoping for an even colour distribution. It works quite well, and I love the yarn I am getting - in the skein. I seem to get a yardage of 300-350m/100g. Not all that consistent between the skeins, but I hope it will do.
For the knitting, I will probably pair it up with a dark blue yarn and do some sort of "Stained Glass" pattern.
See... if I had had my camera handy, this post would have been chock-full of pictures. I dont. So there is only one picture that I had made when I was gifted the wool originally.
Have a really nice day
/Lene