Monday, 16. October 2006
Holiday Activities.
Hey, you there. Yes, you!
Could you please wipe that big smile off my face? No? Well, ok! Because this "living in a cottage with little sister, mother and two ladies"-thing is getting really good.
First, I was allowed to play in the church of "Lysabild", a mere ten minutes on the bike from here. I did that this morning, and was pleasantly surprised at the beautifull sound of this old, and long-ago renovated organ. There was little space up there - standing up straight was impossble, but the organ sounded so good that I sat there for two hours, playing my few pieces over, over and over again.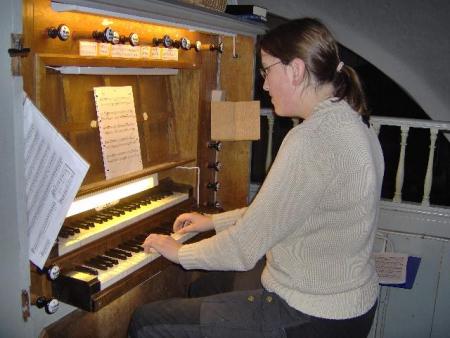 Beautifull, beautifull sound.
After that, I was picked up by the rest of the women minus little sister who played with a friend. We went to "Dybbøl", the place where the danes fended off the germans in 1864 - in vain, sadly. Much of Denmark was taken to Germany, but in 1920, as a result of the Peace in Versailles, a large and most important part returned to Denmark. There is a mill there, that became a symbol of the danish spirit to stay a country, and still is. It was burnt down 5!! times, and built up another five times again, since 1748.
We had a lot of fun :-) We looked at the museum, and really got into making our own flour: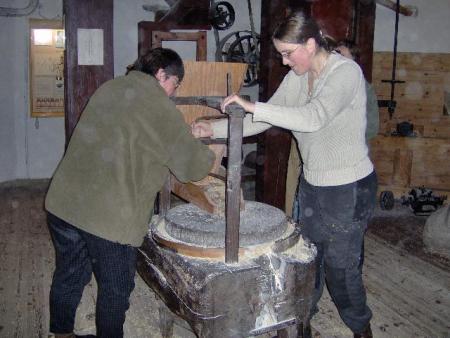 525 grams of flour, but we had to put it thrice through - how sore I am now.
We also went to Sønderborg, the nearest big city, where we parked at the Mariekirken. (Church of Mary). We had never succeeded to look in there even though we had owned the house for four years this spring, but today we went in there, and I pulled together all my courage to ask if I... eehh... might be allowed to try out the organ? Well, of course I might! If I could turn it on, that is, because the person I asked did not know how to ;) I assured her that I would find the switch, and was allowed to ascend - well to say into eternal beauty would not be all wrong. It sounded wonderfull and had so many stops that I was almost tempted to start playing psalms just to make that opportunity last just as long as the 512 psalms in my book.
I did not.
I played a fugue by J. Pachebel twice, and a Prelude by Bach in F. minor, before I, all shaky and totally hyped, went down again, thanked the person who let me in and went out in the sun, gushing to everybody around me about how WONDERFULL that was, and how BEAUTIFULL that sounded. I might have started to repeat myself at some point, after an hour or so :-)
After that, we got my christmas present - a kitchen machine really cheap - it was on sale, and we found another machine that we THOUGHT was the same for 100kr,- less - and got the one we bought for 100kr.- less too!
Call this day a success that Might Never Be Topped.
Wonderfull.
PS: The shawl is at round 40, methinks. I have almost finished the Horseshoe Pattern, at least. This means that stitches per round is under 800, counting from 960 originally and down. I can really feel that the rounds are substantially shorter.
Have a really nice day
/Lene