Monday, 30. October 2006
The Nephew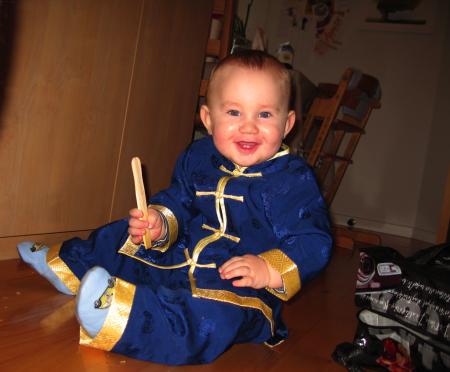 So cute
When I was in Taiwan, I saw those cute little suits in china-style for little kids, and thought: I need one for Nephew. Coincidentally, at a nightmarket (Actually the famous Snake Alley), I saw a booth selling those. All sizes and shapes from "Very Basic" to "See The Tiny Emperor!". This blue outfit just screamed "Cute" to me. It is a soft, blue silk fabric with round motifs, and sturdy yellow silk for the edgings and "buttons".
The construction is very clever, in that it is a suit made for kids. The waist of the pants is just folded over with elastic inside: No fiddly closures, expands to fit-all. The pants are plenty wide, but again, Nephew is pretty slim for his height.
The buttons on front will open at a substantial tug - though this was not specifically designed for kids (doh), it is still a nice feature in childs wear.
The stand-up collar frames a childs face so nicely.
If I were to sew again, and to sew for a child, I would use many of the characteristics this suit has. Plus the fact, that the colour highlights his beautifull eyes :)
It is a size 1 year, amazing, since this little boy wears a size 92/98 (1½-2 years). Apparently the chinese do have a clue about sizing for kids :-)
Have a really nice day, and take good care of yourself and your loved ones.
Lene