Thursday, 23. November 2006
Collecting Christmas Presents.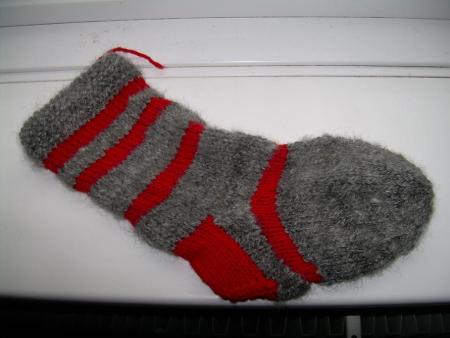 This is not a Christmas Present. It will be swapped for several.
Handspun wool (The grey), and a small leftover of worsted (The red). I used all of the red, sadly, and did not have any for the toe.
Oh well.
The lady who ordered these had just a few general specifics: She liked stripes, little FI patterns, red, grey, and handspun yarns that smelled of sheep.
Well, here is a red/grey striped sock with one yarn a wonderfully sheepy-smelly odour. 4 out of 5 is not that bad.
I will send this off when I have washed it (swished it in cold water a bit) and gently blocked it. Dont want to take away the nice smell.
Tonight I will be soooo sore... I have ridden "Mogsy" today, and will probably ride "Smut" later in the evening. Mogsy is big, cute, 100% stable (Even though I have already succeeded in falling off him), and Mogsy is little, fat, quick and has, uhm, his own mind. I have only ridden him twice - both times in jeans(!) - this will be the first time in "Adequate Clothing". Interesting. Then a weekend with the scouts, and I will be all ready for a relaxing week in my own flat *grins*.
Have a really nice day
/Lene