Wednesday, 27. December 2006
The Holiday FO, take 1
I did it! I really did it. Knitting until 1am late in the night and finishing the seaming when the giftee is watching, but nevertheless, I did it.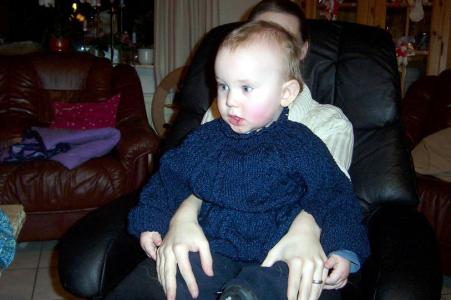 One year old, and soo big
It is quite long and narrow, but I hope that it will resolve itself when the Den-m-Knit yarn is washed in the washing machine. He got three sweaters for cristmass, and not one for his birthday. That is probably because we celebrated cristmas with him and his parents day after his birthday dec. 25.
I am very, very, very, very proud of this little sweater.
The cables flow nicely into each other, and the patterns fit well together. There are little details all through the sweater, like a "seam" purl stitch coming from the ribbing and going all up to the sleeves. Seamless joining in the armpits. The uber-cool cables that I managed to carry up into the raglan.... Those are my favourite.
I should probably tell here that I made it up all on myself. I only had a Gansey book, where I took the patterns from. (I love the texture pattern on the front much more than I have ever loved any heavily cabled front pattern). I decided on a raglan because this yarn shrinks lenghtwise, and I could not wrap my head around any other seamless style that would not cause the sleeves to sit funnily.
Weird Stuff That Happens In My Life
My little sister, 12 years, came down into the living room yesterday, in tears. She was holding her little hamster in her hand, and it laid on its back. "She's dead! She's dead!" (We just bought the critter on friday....). I asked her to give it to me, because it looked mightily dead, but I dont know... I considered trying to give it a heart massage, or something. Now comes the weird thing. It started to breathe when I took it in my hand! After a minute or so, it sat there, looking at me, washing its face, as if it was saying... Hey, what are you looking at? Do I look good?
Weeeeird. Hamster Revived.
Have a really nice day
/Lene