Friday, 5. May 2006
DyeDay!
I am so lucky to have a mother that shares my hobbies (or was it she who is lucky that her daughter shares her hobbies... ;)
She only works four days a week with fridays off, and today we decided to dye!
Mostly fiber, some right from the fleece, some carded on her drumcarder and some processed. Also a (white) 140 yd skein I had lying around with no plans for it.
Its not as though I have a plan for it now, but it is much more colourfull now!! :)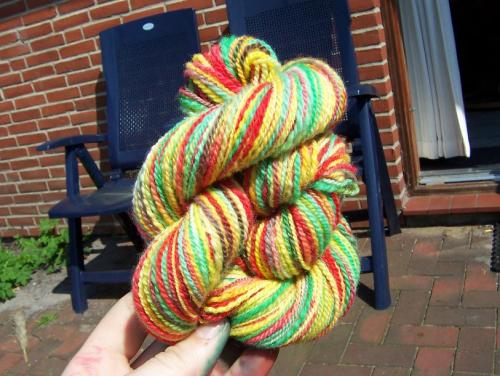 Now, normally we use Acid Dyes for dyeing, but we thought we would try using stuff most people have in their household. (Not Kool-aid, though!)
We got out some easter-egg-dyes, mixed hot water with one tablet and some vinegar, dumped 1-2 oz of wool into it and let it soak for 20 minutes, then nuked it 5 minutes on max in the microvave oven.
Coool... A light, variegated colour :)
Now, we got out some crepe paper (? thin stuff for decorating that you better not get wet lest you want to be multicoloured), wetted some wool throughoutly in water with a spoonfull dishwashing liquid and 2 spoonfulls vinager. I used a 30% solution, normal household is 2-4%.
Squeeye until it doesent drip when holding itup for 5 seconds, place it on saran wrap and wrap a strip of crepe paper 4-5 times around the wool. Do leave 1/2-1" between the differently coloured paper strips, unless you want the colours to bleed into each other (which I did on one and which turned out unfortunate).
Wet with water/vinegar mixed 3/1 (using 3% household vinegar), wrap in saran wrap and nuke in the microwave for 5 minutes on highest setting.
I have (more) pictures, but the batteries in my own camera died! I am recharing some at the moment.
Have a nice, colourfull day
Lene
PS: Guess who will sit outside on the porch and admire all the colours :)
... link