Wednesday, 13. December 2006
Oops, I did it again...
I started a new project: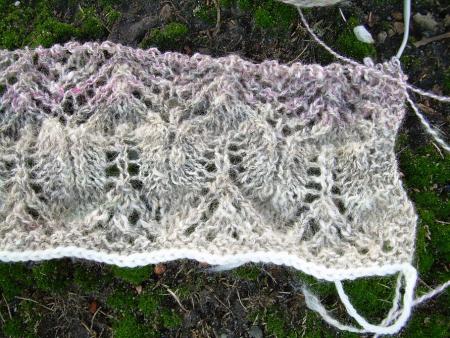 A swedish scarf
I have never been scared off any pattern just because of the language it was written in - I have, in fact, encouraged my mother to knit from a finnish pattern once, namely the
Linux scarf
(Link goes to english translation, not yet availible back then).
No, being scared off by an unreadable pattern is not something that happens over here. I speak danish, and swedish comes from the same roots - similar enough, that the few words that are not at all similar can be guessed by the context.
The bad thing? I will not have enough yarn for even a short scarf. I must card more and spin it - meaning it can not be done before christmas. It will also be substantially different - but does that matter? It is impossible to recreate the exact mix of lambs wool, silk, dog fluff, black wool, pink wool and "random bitsies". I want it to replace my alpaca "scarf" (stole), that I am afraid of damaging by wearing it every day.
I have exiting news (for me): I might be able to finish my organ studies in 2½ years instead of 4½, meaning I will be 25 coming on 26 instead of 27 coming on 28. YES! The bad news is, that I might go down substantially in income and might have to... move. I cringe inwardly at that thought, but if I have to... Then I will.
Have a really nice day
/Lene
... link
Thursday, 16. November 2006
Spin the Wheel.
When I was at my parents house last weekend, I somehow made a stupid mistake.
It all started out well: I sat down with the dog and brushed him for a long time to collect some of his wonderfull wool - it is a lot like Angora, and some people call dog wool "Chiengora". He has a double-layered coat, and I use only the inner, fluffy, soft layer, not the harsh hairy outer layer.
Then, I found some silk, a bit Merino, a handfull black Karakul for interest, and some Texel - I thought! In reality, I grabbed some Lamb's fleece.
Card, card, card - and proudly show my mother, telling her how I would make socks out of that just like one pair I have already? "With Lamb", she asked?
Hm. No, not really. So, what should I do with three ounces of lamb/silk/dog/merino?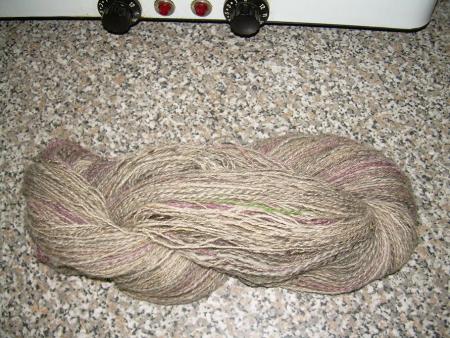 It looks stiff and unwieldy - and feels a bit like that too - but I think I was too gentle in my washing and must use hotter water, more detergent and more "swishing around", and then some "beating up" afterwards. 320 metres.
I also made some progress on a running project, namely 400 grams of lovely handpainted Merino from a spinning friend. There are all kinds of yellows, green and turquoises, and a grey here and there. Nonetheless, I always refer to it as "the blue yarn" *laughs*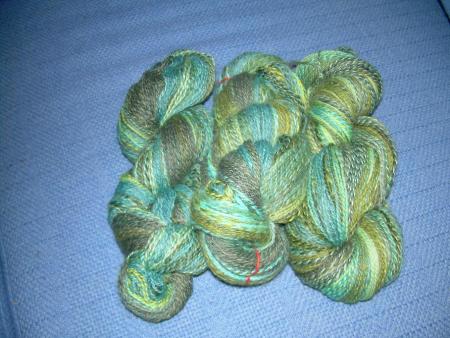 250 grams out of 400 grams, 800 metres
Sometimes, it is just very soothing to sit in front of the spinning wheel and fill bobbins, empty them, fill them again and feel the soft wool against ones fingers as the dreams and hopes for ones handicraft passes through the fingers and enters the real world on the bobbins, in skeins, hanks, balls and knit objects.
Have a nice day
Lene
... link
Wednesday, 26. April 2006
What would YOU do?
Say, you got this soft soft creamy wool/silk blend that you spun yourself. You have tried to take a picture of it, but the weather gods do not cooperate meaning you only have a gloomy and dark shot. (or 15 of them).
Now, this yarn is destined for a smallish stole / largeish scarf (The large-gauged white stole in my previous post), even though it probably is more than a tad too thin (Meaning my yarn weighs under 4 ounces while the specified yarn weighs in at 6 ounces).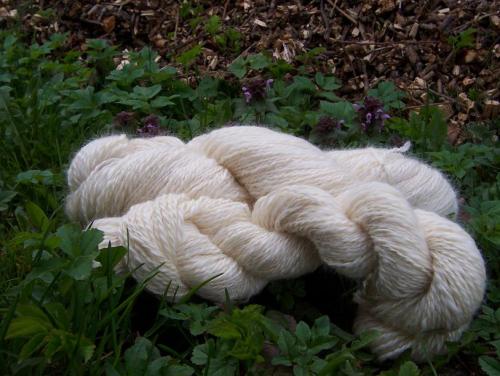 Now, my original plan was to dye it grey-and-pink, but then I found in my stash a grey wool/alpaca blend yarn with sufficient yardage (doubled) for that stole. I thought of dyeing my yarn pink then, variegated, and knit two stoles, to offer a choise for the giftee.
But, should I:
Knit 2 stoles and dye this yarn pink,
Knit 2 stoles and keep this yarn naturally creamy, or
Just knit the grey stole and hide the other yarn for me? (I do have more of this particular fiber-blend.)
Decisions, decisions... :-/
... link
Wednesday, 19. April 2006
More spinning
This blog gives me so much because it is perfectly in harmony with my love for little things, for details, for the pretty things in life.
I learn how to use a camera, and suddenly I see so many beautifull things through my cameras eye. I wont even bother uploading most here on my blog because I cannot show them to you in their full glory, but safe to say that even our garden is beautifull in the morning sunlight, when you focus on detail.
I spun a skein more yesterday, with the white and the other colours, but this time I added a way smaller tuft to the wool - still quite large, but if you want to reploduce a commercial tweed yarn you will either need to cut a yarn into pieces and blend it in with the handcards or commercially buy little tufts (I have seen cotton tufts for sale) and add them in while spinning.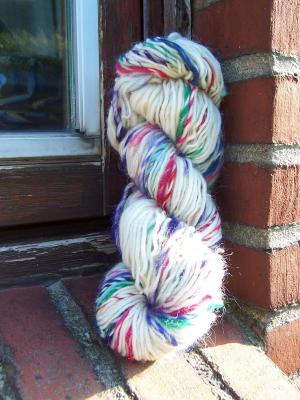 Curiously enough, this yarn ended up at the same yardage and weight as the brown one!
I almost used up the pink, so if I am going to make more - as I probably should because I despise having yarn I cannot use for anything - I must find a replacement colour.
Have a nice day
/Lene
... link
Tuesday, 18. April 2006
Did YOU know where yarn comes from?
I always suspected that yarn grew on trees.
It turns out, I was right!!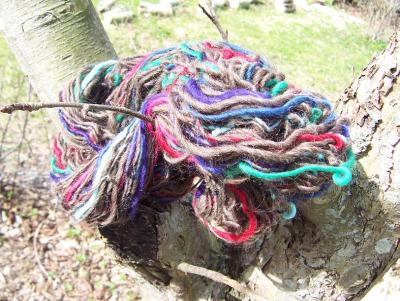 You didnt really believe me, did you? :-)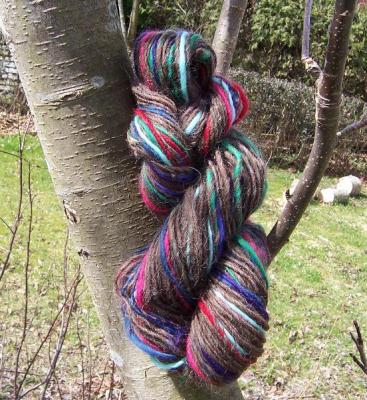 (True to real Colours)
I spun up this skein today because I wanted to experiment a bit. I dont usually spin singles, but for experimenting you cant beat using only ½ of the time creating a skein. I spun this by adding in (admittedly large) tufts of coloured fiber every 1-3 yards, depending on mood and how interesting the movie was (Shakespeare in Love).
I want more, and have decided to use a bit more time on it, and so I will take this: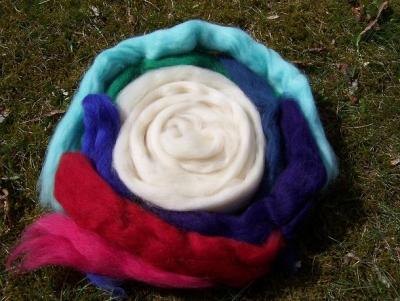 Add some more white (note that the colours are the exact same colours as in the brown skein) and see what I can come up with!
... link
Monday, 3. April 2006
Spinning
Late spring '04 my mother was going right along, had her own spinning wheel and lots of contacts to many people. I really thought I had enough with my knitting hobby and didnt even try to get into spinning, until she explaimed one day:
"Next weekend there is a large sheeps market in Kiel, at the outdoor museum there. Do you want to go with me, I will sit and spin as an exhibit?"
"I cant spin, mom, so what should I do there, just sit and stare at sheep?"
"Well you can sit and knit..."
"If 'I' am going to a spinners meeting I want to be able to spin. I dont want to be the odd one everyone can sit and snicker at"
"You will not be the only one I assure you.."
"You are wastly underestimating me, and I'll show you... (insert evil laughter here)"
I think she planned it that way *laughs*
As said, so done. I sat down with her wheel, a vague idea of what spinning was, and a bunch of carded sheeps wool, (almost) violently refused her tution and a few hours later had two choke-full bobbins of white wool. She plied them for me, but I didnt even look at them anymore, they didnt interest me... after all, now I knew how to spin, and that was enough.
A few days later she dyed some small batches of wool, a green one, a red one, a blue one...
I stole both the red and blue one, and when the spinning day arrived she had no choice but to sit'n'knit, because her wheel was taken.
I seemed to get the hang of it naturally and easily, and very experienced spinners marveled at my yarn even though I had only been spinning for less than a week.
The explanation is this; my hands knew what they were doing. I made soft, wearable wool, even and smooth without no tution at all, only an ancient knowledge that must have lived in my hands since I was born. Apparently it unleashed itself as soon as I got good raw sheeps wool in my hands, and a spindle or wheel to play with.
Why this lenghty explanation?
I finally finished something I am quite proud of. I bought a large bag of raw sheeps wool from a spinning friend, a quite coarse and basic wool, but in the bottom of the bag there was (uncleaned) 300 grams of something very dirty and tangled, but with long staples and a promise of being soft. I spent a lot of time with it, washing it carefully many times, laying it out to dry, picking each lock out for itself, washing it once more and laying each lock out seperately to dry. I used my mothers wool combs and combed all the wool, sitting and combing and combing it over and over again for hours.
I decided that I wanted a one-ply yarn to try and imitate the look of shetland cobweb yarn, spun a 50-gram-skein and took to make other things. Inbetween I spun two smaller skeins, but today I finally pulled myself together and firstly carded the rest of the wool, and then spun it into a moderately fine single.
Imagine me crying out: Finí!
I dont spin much, but when I spin I want it to be good (and sometimes it is).
Here is a picture of my yarn.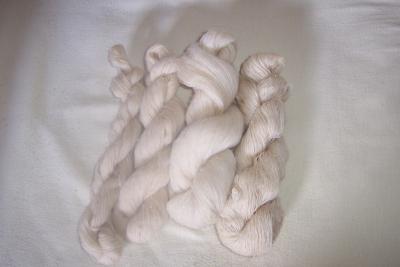 The large skein in the middle was the first one. I have no idea why this skein is so different, but maybe it was due to my quite harsh washing and whacking it afterwards? I will try to wash them again, and see if I can bring it all to look alike.
There are now 170 grams of yarn, roughly translating (calculation based on the last skein) into 1900 yards of yarn, or 550 yards/50 grams. That is even thinner than what
Knitpicks
calls lace weight, so 1900 yards should go pretty far, right? :-)
My ideas for this yarn are:
Print o' the wave lace stole
(But then I'd have to dye this yarn), or a circular shawl of some fashion.
Have a nice day
Lene
... link