Sunday, 7. January 2007
Follow Me.
Somehow, silly song texts are taking over my headlines.
I have moved my blog. I do not, however, know how to import all my posts, but I will investigate that in the days to come.
Please come over to see me at
Blogger.com
. Do not forget to change your bloglines :-)
Have a really nice day
/Lene
... link
Saturday, 6. January 2007
Happy Anniversary!
As mentioned in the jan. 3 post, I have recently celebrated an anniversary that means very much to me.
That it was one year ago that I realised just how fat I was, how much I loathed being like this - how much I loathed wobbling all over the place, my three chins, the unsexy and expensive clothing I was forced to buy. I had thought that I was OK with weighing 242,5 pounds until I somehow expanded crazily. Nothing fit anymore, and everything wobbled when I moved. I had become a fat, stranded whale.
I looked something like this: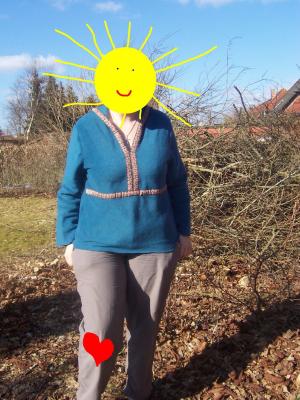 10 pounds down
It was heavenly. Granted, it took me some time and was very tedious at times with the diet I was following - no, not a diet, rather a lifestyle change that made me drop 2-3 pounds a week in a healthy way. When I went to Taiwan, I had lost 40 lbs. Since then, I have done nothing but try to live healthily and avoid too many snacks.
Now?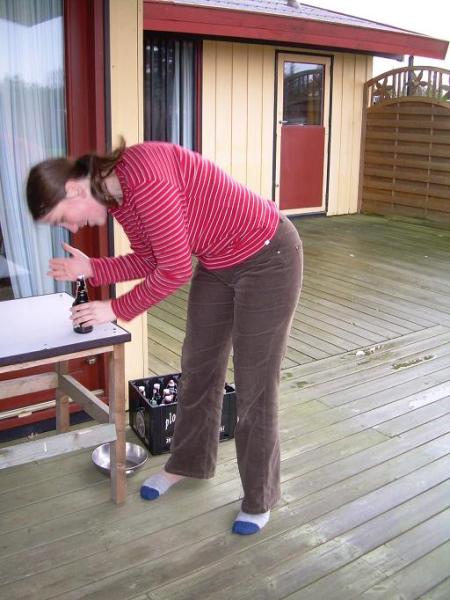 188 pounds - ignore the beer.... *grins*
I have also bought quite a few new clothing items - even a pair of pants in size *gasp* 14! (Nevermind that the goal is a 10, when I come from an 24). I have borrowed a pair of riding pants from my SIL in a size 14 too.
Which is also why one of the next projects to show up here on the blog will be from
Alice Starmore
: Aranmor!! A lovely, easy cabled sweater that I will make with the Jaeger Shetland Aran that i got on sale from the UK Ebay for 45$/10 balls, unopened pack, including postage.
Have a really nice day
/Lene
... link
Monday, 1. January 2007
Happy New Year
And a safe New Years ewe to you all and those who love you.

We have a bad storm and heavy rain, so we are all sitting inside here in our lovely cabin. The guinea pigs are talking to the dog who is chewing a dried pigs ear, the family is watching TV and I finished the handspun dogs wool blend scarf. It is a bit short, but wide. I did not, however, make it and finish it in 2006. I should not have sewn patchwork or made that handsewn toy.

The patchwork is squares for the handsewn squares I inherited from my best friend. They turned out very small, and we dont have a clue of what we did wrong!
I will edge it with another fabric, so nothing is lost, but nonetheless....

Next up: Sew a quilt top out of the squares and my favourite wolf fabric, and spin the excess carded wool for my scarf into a worsted weight yarn for thrummed dog wool mitts... Swoon.

Once again, have a happy new year and a blessed 2007.


/Lene
... link
Sunday, 24. December 2006
...And a very merry Christmas.
The turkey rests safe, marinating in my most favourite olive oil and garlic marinade. The potatoes are peeled. The presents rest underneath the tree. The tree itself is decorated with lights and many old favourites, handmade, bought, recieved as presents and so on. My favourite procrastination project, the Nephew Gansey, is joined at the arms and might just get finished until dec. 26.

Now just remains to prepare the turkey in the oven tomorrow, cook the potatoes, carrots and the "Rødkål" + the miscellanous, go to church and... Oh yes, enjoy.

We will, I am entirely sure of that.

Was christmas shopping with my little brother today - he had four presents, two of whom were ones we are sharing. I had imagined it to be a lot more hectic in the shops today, seeing as it is the last shopping day before christmas. We celebrate christmas on the evening of the 24th, and there is no such thing as "Open on Sundays" here. There is in Denmark, but they dont open on the 24th. Or the 25th. :-) He ended up with two DVD's, a toy car for the nephew and, amazingly enough, two very nice patchwork kits that he put together himself at my aunts quilt-shop.

I hope everyone will get just as nice gifts, and that nobody will have to sit alone whereever they are.

Have a really nice Christmas

/Lene
... link
Thursday, 21. December 2006
Poll.
What do you do when everything goes awry and you desperately need some shopping therapy?
Just a little questionnaire.
I figured out how to make polls today, and was really interested in how other people feel about "Comfort Shopping". I realise that not all (or for some, none) situations call for comfort shopping, but the cases that do are what I am thinking about here.
Referrer Fun
I very often get searches like "Estonian Wool Troll Doll". and "Denmark Nisse Picture" (Too bad my nisse picture is from Norway). Even "Lene Knit blog" often surfaces. Then there are the s*x-related ones that I wont go unto (Apparently, people in Mexico have something they call a "beautifull cutie").
At other times, it is funny to read the referrers. I am linked to at a swedish website dedicated to knitting, with a really neat link collection of 397 english blogs and lots of other stuff.
http://fruitcakeknits.weblog.us
Fruitcake Knits. I really like her lace knitting!
Aaand... the visits when I have gushed out on another blog again, in these days mostly
Jeans Miles Blog
. I Simply Adore her work.
Have a really nice day. I will go play organ for a kindergarten :-)
/Lene
... link
Monday, 18. December 2006
Early Christmas Present.
Or was it Late Housewarming Gift?
What it is or not, here is what it was: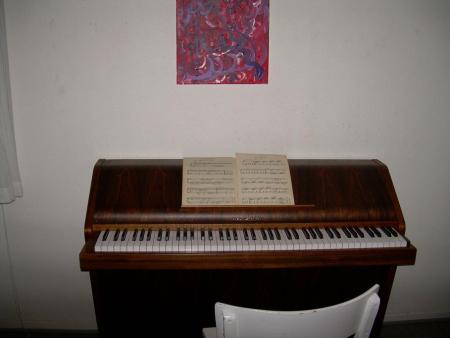 Miiiiine!
I absolutely love this piano, and it has an absolutely surprising sound for being so small. It was comissioned and paid in 1970 and built in 1971 - I can tell, because the original reciept and guarantee papers were still there, inside the piano. How cool is that?
It comes from a local millitary base that was closed down a few years ago. It stood in a heated office building and was only recently moved to an UNheated building (in the dentists room, of all places). I found it on the internet though. My mother paid half, and I paid half. Then there was the problem of getting it up my stairs that are a little steep and are a very sharp U shape. Problem solved: Two strong men, 90$ down their pocket, one hour of time and the piano stood where it should stand (included carrying it out of the basis, driving 10 miles to my home, carrying it up into my flat).
All in all, the piano has cost 700$. A steal! When I get back in january, I will spend another 100$ to get it tuned and inspected, and then I should be good to go. It is just a leeeetle out of tune.
I will also bring my own piano stool - stylish in black with black velvet, goes up and down and all that. It is just a little warped because I threw it on the floor, hard, once I was really pissed (about nothing).
I must be the worlds luckiest person. Absolutely. I have what I need, but I still have wishes and dreams, I am going on a road I want but still have endless stretches of wide open road in front of me.
Have a really nice day
/Lene
... link
Saturday, 16. December 2006
The road we follow.
I have never been a teenager who knew what road to follow, or had very strict thoughts about what I liked and what not. As a result, I ended up with a little bit of everything: Some country, some folk, some jazz, some rock and some pop. Some comfortable, some dressy, some punk and some modern clothes. Some new, some old, some ugly and some plain unclassifiable furniture. Some classic, some unnecessary, some fun and some despisable knowledge. A little bit of everything.
I was easily led on a road, but also just as easy strayed away from it again. I did not live, I floated along, blown by the wind from side to side, yet always tightly anchored to my family.
Teenage fights? Oh yes, many. Because I thought I wanted something because everyone else wanted it... No mind of my own. Except for once, where I probably stretched the boundaries farthest of all us four children (Yet). Travelling alone to Texas for a week with five days notice, 18 years old. Oh yes, sometimes I made wise decisions on my own (Although "Wise" was not the word my mother would have used, had she talked to me about it).
Then came a time in university where I tried to live up to my dream picture: Little bars, studying all night, cooking with room-mates, smoking pipe (ick!), and also dressed like most others on the theology faculty - when I was there, of course. It all ended with a crash: I was put into hospital, stayed there 6 weeks, went home to live with my parents and stayed there for almost two years.
Today, I *think* I know what I want. Space. Time. Music.
My flat is starting to fill with beautifull second-hand furniture (Except for my dining table and chairs. I could find plenty used dining tables, but chairs? Heh.) One of my dearest furniture pieces is this: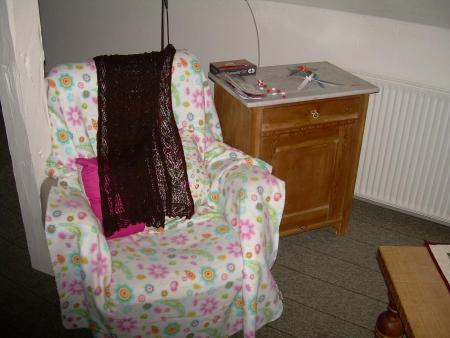 The wooden cupboard beside my old chair with a funky fleece throw I got for my birthday
It was my grandmothers uncles, and I am certain that it was handmade once upon a time. The top part is missing - a mirror - because this was "the bathroom" way back. There would be a large bowl on top to wash oneself in, and in the copboard and the drawer there would be all the utensils used for washing and dressing up.
Now it is housing my WIPS and various knitting tools.
The road we follow?
I go back in time. Furniture with a story behind it, like my couch table: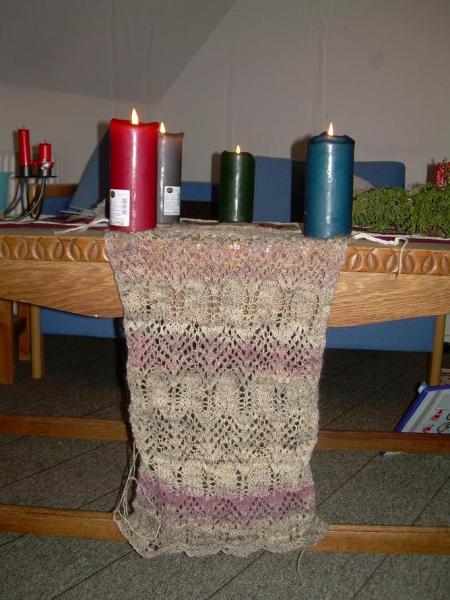 It is excellent for posing knitted things on - and secondhand, og course
It was quite battered, but it only cost me 8$, so I did not complain at all. The knitted thing that hangs off of it is one half of my scarf. I finished it yesterday, but must wait until I can spin more, but to do that I must card more, and to do
that
I must be at my parents home. Which I am not.
Most of the things I do are going back in time. I learn how to play the organ (Who does that anymore?) and I have even discovered a love of empire-waisted tops. I talk slowly, keep all things orderly, sleep and dream sweet dreams, keep my eyes open for the one or other way to earn a bit more money to spend on organ scores.
I also give unexpected gifts (which my mother could attest to, had I unlocked the comments):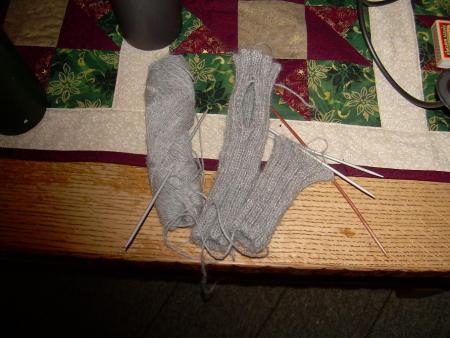 Gauntlets(?) for my teacher. No pattern. Yes, the table runner is handmade patchwork, handsewn, and I put the colours together myself. The pattern was for a machinesewn blue-and-white spring thing, but I wanted a christmas thing
They are good for playing organ - I tested one already. Most of the old stone churches here in Denmark are not heated - rather frosted - and it can be quite a chore to play in the winter months. Since my teacher is a male, fingering grey baby-alpaca on 3mm needles seemed like the way to go. Not that I had many other choices. My stash is shrinking. Probably until the day I have almost used it up, and can go buying from project to project.
They were started yesterday in the evening, while reading. Too bad the book was not two gauntlets long, only 1½. Hrmph. I must loan thicker books, I think, even though this one was a good four inches thick. The trick to reading while knitting is to have a small project, a couch to slouch in while having the book on your knees, and, foremost, a book that stays put! An old, well-read one. I could not manage to knit, read, and hold the pages in place all at once.
Have a really nice day.
/Lene
... link
Thursday, 30. November 2006
Don't They Care?
I *love* patterns. I might almost say, that I collect patterns avidly and lovingly. Most times, I have a talent for looking past fugly yarn choices, unfortunate shapes and the likes.

Which is exactly why I bought a pattern booklet (2,90€) called "Norwegian Sweaters".

Sure, many use the Star Motif so common in Norwegian (And swedish) knitting, but most are only related to the norwegian style in that they employ large patterns, mostly in the yoke.

First, all (colourwork!) sweaters are worked back and forth. Except for one round-yoke sweater that was worked in pieces until the yoke was reached, and then joined. WTF? Who wants to knit colourwork patterns with up to 4 colours from the purl side?

Second, the shapes are sometimes less than flattering. The round-yoke sweater mentioned is so narrow in the yoke, that the model cant lift up her arms - then her belly would be bared to the bra!! Most of the set-in styles have shoulders hanging 2-3" off the shoulders. Fuuugly. There is also a basic ribbed sweater with a cropped, short-sleeved, ribbed-and-colourwork cardigan. Who needs a cardigan like that when you have a sweater?

Third, yarn choices. People!! Worsted+ yarns make for fast knitting and are good for winter, but when I can achieve the same gauge with a worsted yarn that is achieved with a bulky yarn - help, what went wrong? Do you like wearing cardboard?
Oh, and why does the cutest 50'ies style with deep ribbings, slim silhouette and boat neck have to have the upper 5" of the body covered in fun fur? Me Tarzan, you Jane? White, silver and baby blue is also not a good combination - at least not, if you want to actually *see* the pattern you are knitting. Might as well just knit it in, say, tan? It also mucks me that they knit a heavy winter coat out of CASHMERE - come on, almost 3 pounds of superbulky cashmere?

Fourth, pattern mistakes. Count count count - three mistakes (actually, if we count square-by-square, there are many more) in one pattern, and three honking mistakes in the pattern text. I dont want to explore this subject further, as I dont think being bald would be pretty :-)

Fifth: Photography. Do you ever feel that you can hear what the photographer is telling the model when you look at a picture? "Bend that arm, then the sleeve will not look as long" - "lift your chin or the collar will swallow it completely!" - "Hold your arms down your side, the sweater reveals your belly button". Ew.


Rant aside. Sometimes it is really good to be experienced, because - well, you can just alter the pattern. Not that easy when there is just an "average gauge" - and the pattern has cables, colourwork and stockinette. (Oppps, rant go away).

I love this booklet - it gives me something to laugh about, and it gives a lot of inspiration. Always good to feel superior, huh?
Most of the sweaters are supercute, and if I were a knitting machine, I would probably knit most - especially a blue/turquoise round-yoked sweater with little white motifs around the body, sleeve and lower part of the yoke. Purty! Or the aforementioned Cashmere Coat - if my b*tt were not so big *blushes*.

Pictures? Yep, when it clears up! I dont want to hold back the Fugly Styles of Germany :-)


Have a really nice day / Night


/Lene
... link
Wednesday, 22. November 2006
Crossing fingers.
I doubt that I will be able to play the organ, knit, ride, cook (and eat!) or anything else until next wednesday:
Not cheap, but not expensive either. Not from a private home, but a millitary basis that has been closed down *grins*
I hope that it will be mine after trying it out wednesday. It is small - relatively lightweight (a top priority), and, alledgedly, has a good sound compared to its size.
Have a really nice day
/Lene
... link
Monday, 13. November 2006
Christmas is around the corner!
At school, we are rehearsing christmas psalms, on my door there is now a beautifull wreath (I may say so, I made it!), and there is often snow in the air.
As every person with crafty hands and empty pockets knows, this is the time for giving and recieving!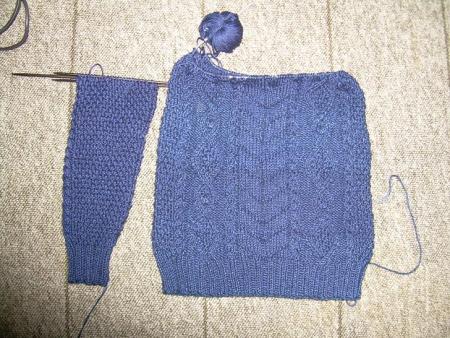 My Nephews First Christmas Present!
Since my Nephew managed to be born late evening the 25th december 2005, this will be his first christmas, and he will be as old as he could possibly be at his first christmas ever - 364 days on December 24, where we in Northen Europe celebrate Christmas.
Though, traditions nonetheless, sometimes we borrow from each other and bring new things to our countries.
I took advantage of the "Sock on the Chimney" mixed with our "Nikolaus" coming on Dec. 6, filling a boot put in the window, and created this on the promise of my mother that it would be filled every time I came home to my parents in December: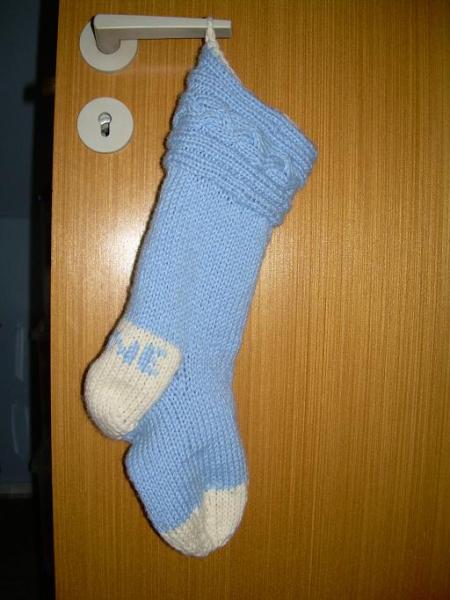 Pattern: My own, with inspiration from a picture on the net somewhere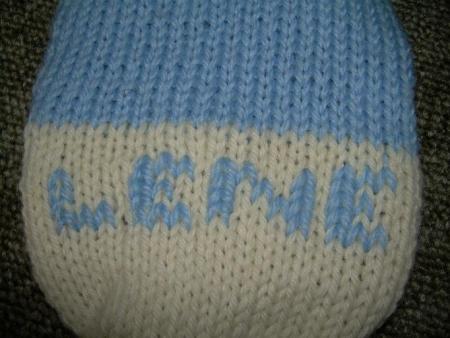 I wanted my name on this sock, but err... Thou Shalst Not Figure Out A New Technique On Something That Wilst Be Seen Publicly. I should at least have read up on duplicate stitch or drawn a chart ;-)
I like it nonetheless, because it is personal and all mine! *bwhahaha*
If anyone should be interested in a (rough draft of a) pattern - I will write a blog entry in the upcoming week about that.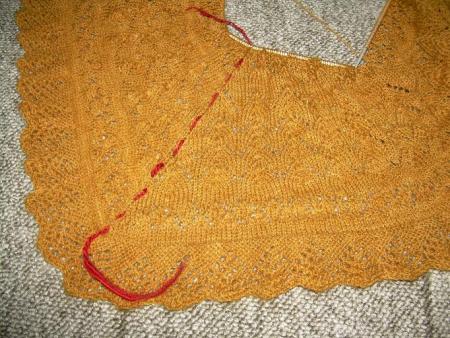 So delicate
I even managed to sneak in some knitting time on Beatrice - sadly, I have been in a bit of knitting blahs the while autumn through, which is also why I have mostly scrapped the idea of a black handspun aran sweater. The weather is dark and blah, so why knit and design and spin in
black
? I dont
really
need another depression ;-)
I love this Beatrice pattern, and knit on it occasionally. I am now down to 700 stitches all around, coming from 920. Gooood :-D
Then, at long last, there is also another christmas project.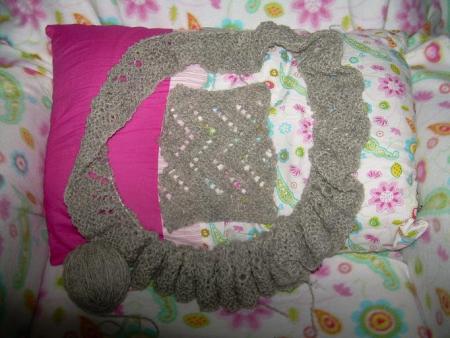 A Faroese shawl for a swap
I will recieve a handknit troll, and Birthe - a spinning aquintance - will recieve this shawl. The swatch in the middle is the pattern I am using, and right now the shawl is two inches after the completed pattern. Why this old picture?
I forgot the shawl at my parents house.
There is a good reason though, because I was sick as a dog monday, trying to gather all my stuff (Which was harder than usual because of my two new friends and all their stuff):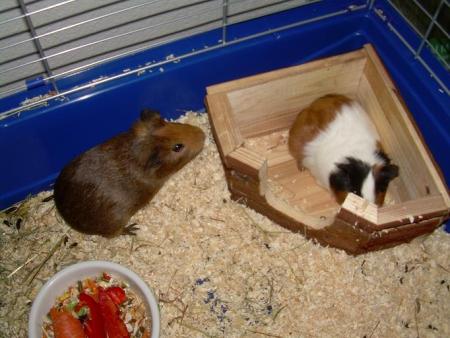 The Agouti is called "Ditlev", and the three-coloured is called "Prins"
In all the huff and hurry tuesday morning - me still a bit sick, my grandparents coming over a bit too early and catching me not at all ready etc. - I forgot my knitting, my milk and the boy's vegetables. Typically, right? ;-)
Good thing that I had the baby sweater and the Christening Shawl handy here in my own flat.
The sock was started and completed within two days, and probably what pulled me out of my lethargic state of mind - it was fun! It was easy! It was quick! It was something completely new! (Christmas Stocking was new, not knitting socks *lol*)
In a vain hope that I have not broken your modem or some such - I seem to have gone overboard with the pictures today!! - have a really nice day.
Lene
... link