Thursday, 29. June 2006
Some old FO's.
In the "pictureless" era of this blog, I completed some more Jean Greenhowe toys.
I mentioned them, but was unable to provide pictures.
Now, that I finally got my fabulous new Dell-laptop, I can upload the pictures!
One "Guardsman", with legs that are knit together and only seperate shoes, and one Polar Bear, knit from the pig pattern.
They are leaning on (one of) my knitting basket(s) :-)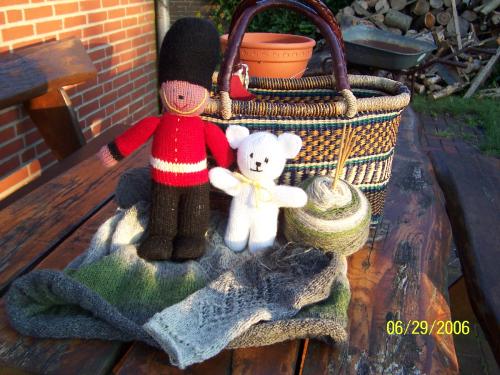 They are trying to distract you from the just 4" of progress on the lace cable sleeve.
There has been much other crafting and creative progress, such as painting a Garfield Cat onto a cloak and proof-reading a camp-booklet in english, leaving little time enough to keep my composure and stay normal.
Have a really nice day :-)
Lene
... link
Sunday, 14. May 2006
One little piggy
I love the Jean Greenhowe book!
This pig was very easy to knit (I converted it to knitting-in-the-round, all the way, even the ears), but I had issues with the head being too.. shallow. Next time I will knit less rows after decreasing in the body and more rows after increasing for the head again.
This little piggy doesent have a face and may never get one because he is not destined for a child, but lives in the limbo that is my life at the present.
I present:
Jean the Piggy!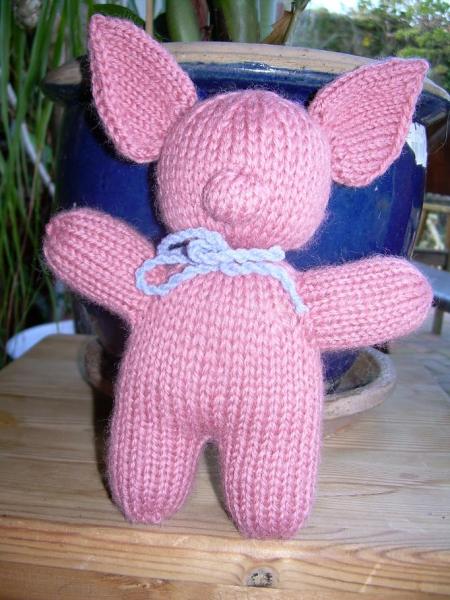 (Sorry Mrs. Greenhowe ;)
Have a nice day
Lene
... link