Monday, 30. October 2006
The Nephew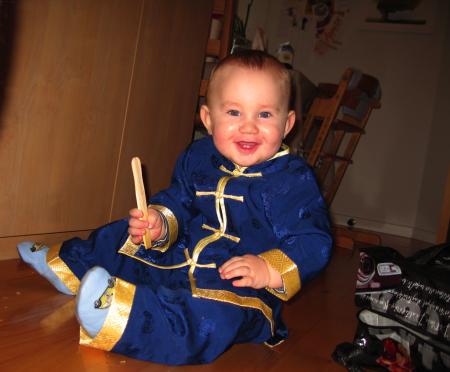 So cute
When I was in Taiwan, I saw those cute little suits in china-style for little kids, and thought: I need one for Nephew. Coincidentally, at a nightmarket (Actually the famous Snake Alley), I saw a booth selling those. All sizes and shapes from "Very Basic" to "See The Tiny Emperor!". This blue outfit just screamed "Cute" to me. It is a soft, blue silk fabric with round motifs, and sturdy yellow silk for the edgings and "buttons".
The construction is very clever, in that it is a suit made for kids. The waist of the pants is just folded over with elastic inside: No fiddly closures, expands to fit-all. The pants are plenty wide, but again, Nephew is pretty slim for his height.
The buttons on front will open at a substantial tug - though this was not specifically designed for kids (doh), it is still a nice feature in childs wear.
The stand-up collar frames a childs face so nicely.
If I were to sew again, and to sew for a child, I would use many of the characteristics this suit has. Plus the fact, that the colour highlights his beautifull eyes :)
It is a size 1 year, amazing, since this little boy wears a size 92/98 (1½-2 years). Apparently the chinese do have a clue about sizing for kids :-)
Have a really nice day, and take good care of yourself and your loved ones.
Lene
... link
Monday, 16. October 2006
Holiday Activities.
Hey, you there. Yes, you!
Could you please wipe that big smile off my face? No? Well, ok! Because this "living in a cottage with little sister, mother and two ladies"-thing is getting really good.
First, I was allowed to play in the church of "Lysabild", a mere ten minutes on the bike from here. I did that this morning, and was pleasantly surprised at the beautifull sound of this old, and long-ago renovated organ. There was little space up there - standing up straight was impossble, but the organ sounded so good that I sat there for two hours, playing my few pieces over, over and over again.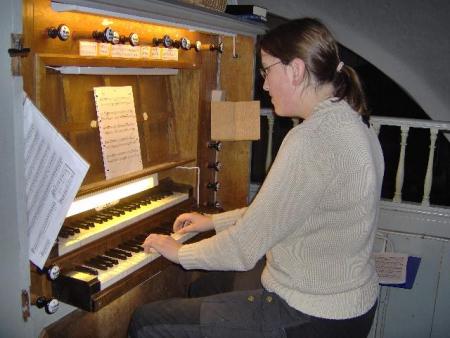 Beautifull, beautifull sound.
After that, I was picked up by the rest of the women minus little sister who played with a friend. We went to "Dybbøl", the place where the danes fended off the germans in 1864 - in vain, sadly. Much of Denmark was taken to Germany, but in 1920, as a result of the Peace in Versailles, a large and most important part returned to Denmark. There is a mill there, that became a symbol of the danish spirit to stay a country, and still is. It was burnt down 5!! times, and built up another five times again, since 1748.
We had a lot of fun :-) We looked at the museum, and really got into making our own flour: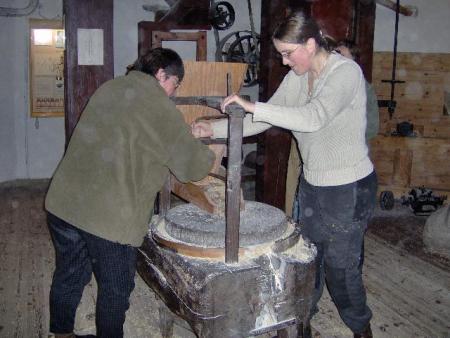 525 grams of flour, but we had to put it thrice through - how sore I am now.
We also went to Sønderborg, the nearest big city, where we parked at the Mariekirken. (Church of Mary). We had never succeeded to look in there even though we had owned the house for four years this spring, but today we went in there, and I pulled together all my courage to ask if I... eehh... might be allowed to try out the organ? Well, of course I might! If I could turn it on, that is, because the person I asked did not know how to ;) I assured her that I would find the switch, and was allowed to ascend - well to say into eternal beauty would not be all wrong. It sounded wonderfull and had so many stops that I was almost tempted to start playing psalms just to make that opportunity last just as long as the 512 psalms in my book.
I did not.
I played a fugue by J. Pachebel twice, and a Prelude by Bach in F. minor, before I, all shaky and totally hyped, went down again, thanked the person who let me in and went out in the sun, gushing to everybody around me about how WONDERFULL that was, and how BEAUTIFULL that sounded. I might have started to repeat myself at some point, after an hour or so :-)
After that, we got my christmas present - a kitchen machine really cheap - it was on sale, and we found another machine that we THOUGHT was the same for 100kr,- less - and got the one we bought for 100kr.- less too!
Call this day a success that Might Never Be Topped.
Wonderfull.
PS: The shawl is at round 40, methinks. I have almost finished the Horseshoe Pattern, at least. This means that stitches per round is under 800, counting from 960 originally and down. I can really feel that the rounds are substantially shorter.
Have a really nice day
/Lene
... link
Thursday, 28. September 2006
How about some cables?
Now, I suppose many have seen the fabulous sweaters on the Yarnharlots blog. I was particularily smitten with one:
The panelled, cabled
one. I think I know where the inspiration came from - at least, I have a book (Horst Schulz, no link because his book are 1) german and 2) long out of print) where there are several such sweaters in, among many many other clever piece-knitted sweaters.
I have this black wool that I want to use for a sweater, and my mother graciously offered me "a good bunch" of a gorgeous silver grey fleece with an incredible staple lengt - and an incredible weight.
Now, wouldnt it look gorgeous to knit the saddles and a saddle-wide cabled strip atop the sleeve, the collar and a wide panel on the front in silver grey while having the rest in
black
?
I dont like seams, so I will cheat - of course, I am almost saying.
I would show pictures of gorgeous wool (and an almost finished edging for the christening shawl), but the batteries have died. The charged ones are - story of my life - not where I am. That's just as typical as my first riding lesson in a long time yesterday - my boots were not where I was, so I tried with my hiking boots (sz. 11). They wouldnt fit. I think I was quite heroic in riding my whole lesson without stirrups (Is that right? I asked babelfish.) I had only tried that once before, for 30 seconds. As I said, story of my life - stuff is where I am not.
Have a really nice day
Lene
PS: I KNOW I was riding yesterday - sitting on the floor is a no-go today, as is walking fast, taking stairs two steps a time, doing extended pedaling on the organ... owie.
... link
Tuesday, 29. August 2006
Hiatus.
I love my blog - I really do.
I just need a break. The rain keeps on coming down, my knitting does not progress at the pace I would like it to, the real world has come uncomfortably close to me - and more, I might not have 'net for quite some time.
For this, I will leave my blog unattended for some time.
I _will_ be back though - one day, when I feel I have energy left over to attend to this blog again.
In the meantime - if you listen closely - you might be able to hear me play the organ, expressing my dreams and hopes.
... link
Tuesday, 15. August 2006
Did I say...
Did I say I MIGHT order some yarn from Lisa Souza? I ordered four skeins of her laceweight - two undyed hanks, one of whom will be dyed ice-blue, or light ice blue and dark (storm sky) blotches, for the "Snowdrift" stole, found at www.blackberry-ridge.com. The other has no destination yet, but will hold dreams for me until find the perfect item for it.
The two dyed skeins are one in "Old Gold" - from her Heathered Solids, and one skein of Sapphire, for my mother, also one of her "solids".
I love these yarns - and look forward to knit with them, even though they are Merino, and as such are destined to block badly and slouch back into unblocked shape quite quickly. I might just starch them when the day comes.
Did I say that I had no UFO's?
I have.
ONE.
That's not too bad, right? Though, on the Spinning front, I have an additional one, as the Shetland Humbug I wanted to spun one-ply is finished, and some if it is plied - it did not work out as a single ply. I must ply the rest. Eurgh.
I present:
Rosy Fingered Dawn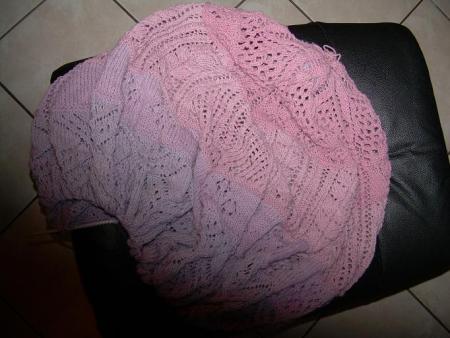 This kit is not even mine. I never got the payment information! I asked for it five times.
I dont like the yarn - is feels like it was made from bad wool, it breaks, it stretches weirdly, feels weird, and the colours are not to my liking. I had seen much more vibrant and glorious pictures of these colours! Finally at the two last colours though - means the edging and one last border repeat to go. I think it might be beautifull to see it finished one day, but I dont know how to finish it, as much as I loathe knitting it by now.
Did I say that I was unemployed and lived at my parents?
No more! I signed a contract for a flat of my own!! It is quite large, but has a really bad, small kitchen, making the appartment affordable for me. It is the entire top floor of a small house from around 1900, with a direct wiev to one of the most beautiful churches in Denmark, the churchyard and a forest.
It lies barely a minutes walk away from my school, in a very quiet neighbourhood, in one of the most rural (in the charming way) towns in all of Denmark. People are so friendly and make me want to be just like them - they show you the way, tell you the gossip, smile at you, pick up the stuff you drop because your are so loaded that you cannot breathe without losing half of your load.
Ah.. That kind of small-town life is right my style.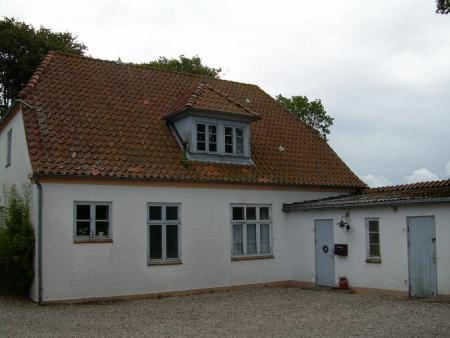 Right hand, my shed, top floor - my new appartment. Two-bedroom, absolutely rustic in the good way
Did I say I was unemployed? (I think I did, yes...)
Well, as of today I am studying to be an organ player. It might not sound of much to you - neither does it to me - but I guess being an organ player and studying once a week is more than sitting at home and crying out your eyes because you are not doing anything. Right now, I just feel quite inadequate because we were covering some theory today that I have never learned - but dang it if I would admit it. I just fought on. It does not make it better that I am by far the youngest, but as I said before - I will fight on :-)
Have a really nice day
Lene
... link
Friday, 11. August 2006
The growth of my projects.
Actually, yes, my projects seem to grow with astonishing speed!

The Kauni Lace project is already past the specified pattern - meaning, Meg Swansen specified 8 ladders for one shawl and 10 for another - wanting a large shawl, I knit until two holes of the 10th ladder, only to discover that "10 ladders" mean "9 ladders and two holes of the 10th ladder while doing a fancy border pattern that is continued for another few rows". My shawl will be of the "11 ladders" variety... *grins*

No problem whatsoever though, I have plenty of yarn and there is still some knitting stamina left - plus the fact that I am knitting on 5mm instead of 6mm needles, making me feel the need for compensating for the small(er) needles.

I am also spinning on a present Karin from Esbjerg gave me - 300g blue, green and yellow dye ends. I am spinning them for a 3½mm needle, and want to knit an "Ariadnes Jacket" from Spring Spin-off out of it.

It is 6am and we are going to pick up my stuff from my X soon - yay!

Have a really nice day

Lene

Update: I got my stuff! If you knew my X you would know what a feat that is. I not only got my stuff, I also got an opportunity to get my X back - but eh no, rather be single :-).
Kauni has grown to the point of adding the edging. After enlarging the shawl again and again, I have now started the flower border before the edging.
... link
Wednesday, 2. August 2006
"Knit on, with Confidence and Hope, through all Crises."
Yes, Elizabeth Zimmerman. That I will do :-)
I took off to start a bike journey of around 250 km's, but got stopped a bit over midways (after 1½ days) because it started to rain, and the forecast only told about more and more rain in the coming days. *Crying smiley*
Well, but now I have time to knit on my little idea.. It is not that it is such a large thing - in fact, it is sized for a medium adult - but there is more knitting than one would expect anyhow.
I am way past the hardest stuff now (well... 12 rows or so), and it shapes up nicely.
Sneek peek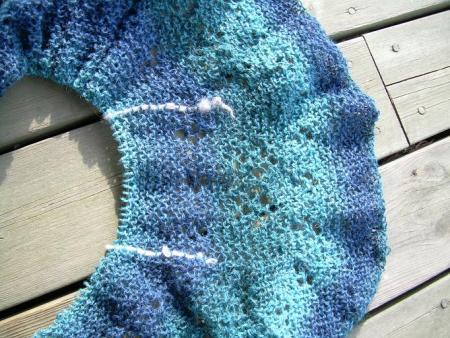 Oh! Sneaky Holes! What do they represent?
I also knitted a little felted bag that is at home, drying, and half a sock. Summer hiatus continues :)
Lene
... link
Tuesday, 11. July 2006
No, I didnt die or bury myself in wool.
Actually, I am at a scouts camp:
A Jamborette
, and oh how I love being here - we have one every 5 years, so there is a lot of "looking forward" and just a little of "Being here".
Now, when I get back, I will update with my finished "Scarf" in Kauni-leftovers, so dont despair, there will soon be daily (semidaily) action on here, with new pictures and fun projects.
Have a really nice day.
Lene
... link
Monday, 3. July 2006
Future Plans.
I remember talking about a handspun sweater, black and with cables, in
this
post. By now, I have stashed two kilos, more or less, of black(ish) wool.
One kilo black wool from the
Black Welsh Mountain Sheep
, already scoured and carded, and one kilo of random black sheep, a very happy little sheep I might add, living near our summer cottage on a lush green pasture.
I am hoping to recieve a whole fleece of grey/black wool yet, so I will certainly have choices!
This progress is one I want to share with the blog, as I fear that I will never get around to start if I cannot apply some pressure to myself in the process - re the
Yarnharlot
who is on her third year of spinning for a Manly Gansey - slowly, but surely.
Because July 1st has already passed, August 1st is undercertain because of moving (Yes, I was admitted into the organ school!), September 1st is sure to be very hot, October 1st will see the start of my spinning and knitting adventure.
I will post weekly technique and spinning updates, to ensure that if anybody should want to embark on their first "spin-and-knit"-adventure, they could follow in my footsteps and have at least a faint idea of what they are doing.
Prior to this I might run a week of "Learn-to-Spin", to refresh my own "spinning memory" and polish some techniques.
Who knows, maybe I can make someone want to learn to spin too? :-)
Have a really nice day - I am just plugging along on The Marianne Sleeve (slowly) and the rainbow-pi-leftover-shawl.
Lene
... link
Sunday, 11. June 2006
Back to the grind.
Due to some TaiWan-blues, I rebooked my ticket to fly hom Tuesday, June 6. It was an uneventfull flight (Finished a LL sock, cast on another one, sat at the emergency exit from Amsterdam to Hamburg, had exactly 20 kgs baggage, and, most excitingly, my two bags came as number 7 and 10 in Hamburg!)


Well home, there was a book waiting for me (but no socks, boohoo, I have written my sock pal but no response yet). It was Jean Greenhowes Knitted Toys. Printed in 1986 but in as-good-as-mint state. It is so lovely that I could not resist casting on for a Guardsman right away with some black Lopi Lite, red Karisma from Garnstudio, pink Wool of the Andes and ome fat white wool I have inherited. He looks so cute it is almost unbearable, and as soon as his face is finished he will be not-so-cute, but fierce and ready to not only rescue queens, but everyone in need, especially pretty princesses that come with half a kingdom.

The pig I posted about before leaving has a face, but has left home to live with a lucky someone. I donated him to a drawing (along with a pair of socks from my grandma and 9 other assorted things ranging from shawl to doily) which will benefit a group of scouts from Zambia coming up to our large scout camp in July. My donation will enable them to raise another 100 euros if all tickets are sold! :)

There is a little story going with this too. About God.
One of our scout leaders who is a very outgoing person (and someone who trusts in God) was almost despairing because donations came so sparse and she feared she would have to ask some of the Zambians to stay at home. She prayed to God that he would help her, because she had no other to turn to in that case.
The next day she is coming home from work when her husband is at the phone talking to someone - "oh wait, she is coming in the door right now, so you can talk to her!".
It was a lawyer from Copenhagen who was representing a fund, a very unknown and small one, that had had very few people asking for money in the past year. Since they were obliged to give out a sum each year, they had been doing some searching to find groups worthy of a donation, and now he was calling her to ask if she wanted 20.000 kroner (2.500 euros) for her cause.
I could feel my hairs rising on my arms when I was told this story... It MUST have been God who had a finger in this! It was all so perfect, and she ha already recieved the money and bought the plane tickets for all of the wonderfull ladies from Zambia, which I am very much looking foward to meet again (for what will be the third time :)

Have a really nice day everybody.
lene
... link