Wednesday, 27. December 2006
The Holiday FO, take 1
I did it! I really did it. Knitting until 1am late in the night and finishing the seaming when the giftee is watching, but nevertheless, I did it.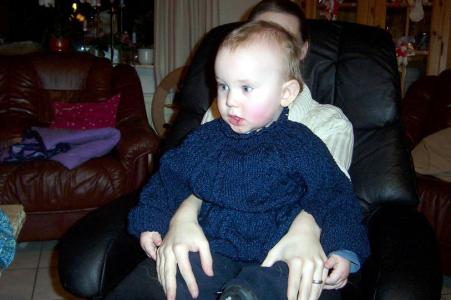 One year old, and soo big
It is quite long and narrow, but I hope that it will resolve itself when the Den-m-Knit yarn is washed in the washing machine. He got three sweaters for cristmass, and not one for his birthday. That is probably because we celebrated cristmas with him and his parents day after his birthday dec. 25.
I am very, very, very, very proud of this little sweater.
The cables flow nicely into each other, and the patterns fit well together. There are little details all through the sweater, like a "seam" purl stitch coming from the ribbing and going all up to the sleeves. Seamless joining in the armpits. The uber-cool cables that I managed to carry up into the raglan.... Those are my favourite.
I should probably tell here that I made it up all on myself. I only had a Gansey book, where I took the patterns from. (I love the texture pattern on the front much more than I have ever loved any heavily cabled front pattern). I decided on a raglan because this yarn shrinks lenghtwise, and I could not wrap my head around any other seamless style that would not cause the sleeves to sit funnily.
Weird Stuff That Happens In My Life
My little sister, 12 years, came down into the living room yesterday, in tears. She was holding her little hamster in her hand, and it laid on its back. "She's dead! She's dead!" (We just bought the critter on friday....). I asked her to give it to me, because it looked mightily dead, but I dont know... I considered trying to give it a heart massage, or something. Now comes the weird thing. It started to breathe when I took it in my hand! After a minute or so, it sat there, looking at me, washing its face, as if it was saying... Hey, what are you looking at? Do I look good?
Weeeeird. Hamster Revived.
Have a really nice day
/Lene
... link
Wednesday, 20. December 2006
Heartbroken
I came back to my parents today to play at my little sisters christmas school party, which went quite well. I even got paid :-)
On another note, I think I almost broke my heart. The white and green sweater? With the blue snowflakes? I had tried to unshrink it by soaking it in milk as several people had recommended. My mother went up and found green stuff growing on it.. EWWW... So she washed it, twice, in her washer. Laid it out.
It had felted :-(((( Much more than previously. It must have been the washing two times in a row thing, or the milk, or something, I dont know. I only know that it is very small now, and only fit for those with very little bust. So sad. I already loved that sweater, and never even got to wear it except for one little hour. Had it just been a plain st. st. sweater, but it had such elaborate cuffs and a beautifull band of snowflakes. It was so perfect, the white yarn lighted up and the dark green accentuated my face.
I am very wary of knitting another sweater now. That just hurts too much. Not just that the sweater is gone - the yarn is gone too. Would not have been so bad if I could have unraveled it. My mother offered me some other yarn, but it is not really her fault that it is unwearable, she just wanted to help me.
*Sigh*.. It is so hard.
But on a lighter note, the evening went really well, so I hope my next two assignments will also go by easily (A kindergarten sermon and a school sermon tomorrow and day after that). Maybe they will pay me. Maybe I will clutch my money and go to www.wollsucht.de and buy some luxurious yarn to pet and hold. I buy a lot of yarn that way. Comfort Food. Does not make you thick, and yields many happy hours. (Except for if you felt it...)
Maybe I will buy a skein of Noro Kureyon and knit a
Fake Isle
hat with it. Or some of the fat Evilla yarn she is carrying, to make thrummed mittens. Or some of the thick oneply stripey yarn in cool colours to make a felted baggie (Oh maybe not.. I still have almost a pounds worth of yarn knitted into a felted bag that turned out ridiculously huge even after hard felting). Maybe I will just end up buying some soft wool and take it into bed with me (which has been known to happen. I have to skeins of Evilla in browns and blues that I store in my nightstand).
Just talking about "Yarn Therapy" already makes me much happier, isnt that funny? It is good to know that I have money in my pocket (Adding last weeks earnt money to it I could buy a sweaters worth of almost any yarn). Yarn is always good, because it does not induce guilt. I mean - it does not make you fat, ugly, hurts you or does anything but insulate your flat and keep you happy, all the way from dream to yarn to WIP to FO. You could roll around in it, or lay on it, hug it, watch it, roll it into a ball repeatedly, stick your face into it. If need be, you can cry into a ball of yarn, punch into it, throw it through the living room (if you do not have any vases or such), stomp on it and slap it on the walls without harming it.
Have a nice day
/Lene "Writing Therapy"
... link
Tuesday, 12. December 2006
I have knit a sweater.
.. and then i felted it.
I saw a picture in a magazine that I absolutely liked, and started to knit a "semi-alike" sweater. It had a tightly cabled (lattice pattern) cuff on both sleeves and body, a large and tall cabled neck band, snowflakes across the chest, and set-in sleeves. The sleeves hit the model about, uh, three inches down her arm. Quite unflattering! Also, it was only one size: Petite.
While I am not petite, I am not terribly big either.
I added quite a few stitches to the cuffs, decreased some after knitting the cuffs, and knit body and sleeves in white with half the snowflake motif, light blue yarn and the white as dominant colour.. Then I joined body and sleeves for a shapely raglan shoulder, cutting the white yarn and adding a deep green, using the light blue as the dominant colour, being afraid that the green would swallow the blue.
I actually finished it within a week (I dont count the two days I spent knitting one cuff... pah), and it was wonderfull. It fit perfectly. The colours were just right.
I wanted it to dry so I could wear it when my mother came - and did not want to wear an unblocked sweater. I waited and I waited... decided to put it in the dryer... (Do you see where this is headed?)
When I pulled it out again it had shrunk... Just a leetle... But enough that it
did not fit!!!
I have tried soaking it in milk to make the fibers release their grip of each other, and have stretched the bejeezus out of it. I really need another inch in the sleeves, but, oh joy - I forgot it at home where it is drying at the same place the Grey Shawl dried. Well, maybe I can wear it when I go playing for the local danish schools christmas sermon, and the not-so-local danish kindergartens sermon.
I christened my sweater the "Snow Forest", and sometimes "Snowflake Winter".
Yes, the picture in my previous entry (That you may look at now, mor), was of a finished sleeve. The whole she-bang was finished late the 7th.
The next project is another "I Know I Can" thing, using some handspun... Hmm.. .and a Web Pattern...
I feel almost bad for this: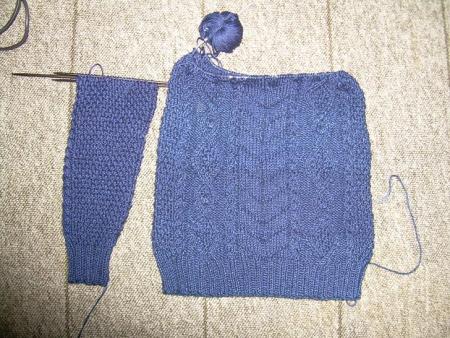 Christmas Present?
I have two almost-finished sleeves for it, so with time, it will get done. Just.. Not Right Now.
I really want to get going on this: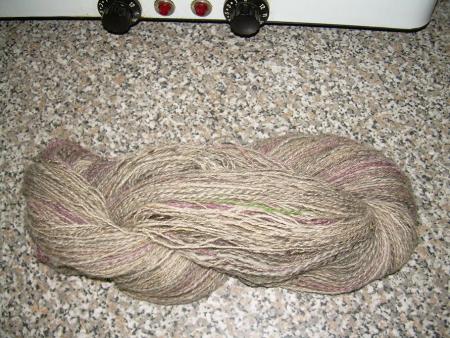 I am wearing a fragile handspun alpaca stole as my favourite winter accessory, but feel a little bad about it because it gets caught so easily. This will be my replacement.
Have a really nice day - I must go grocery shopping, or I will starve :-)
/Lene
... link
Saturday, 2. December 2006
In which we return to regularly sceduled knitting.
If you are my mother, will you please close your eyes?
Dont look, I said >:-(
Tralalala, if you still havent closed your eyes, do it now - and click on the shiny, pretty X in the upper right corner, ok?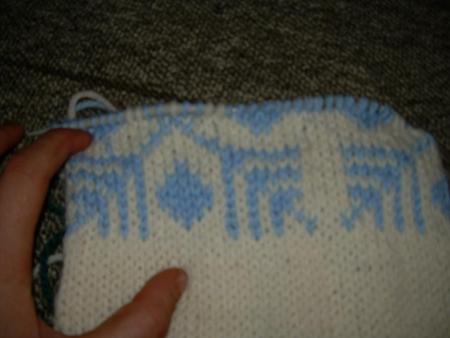 Colourwork! :-0. Fat needles (US8, 5mm), worsted yarn, and oodles of stitches. I am hoping for a kind of fairytale look, that will probably morph into "Yay! Room for lots of layers underneath"
Knitpicks Wool of the Andes in 100g natural Hanks, and a bit of the same from Elann. Lateron, I will use some green to top off this sweater with a raglan yoke, finishing the snowflake pattern when I begin the raglan decreases.
There is a pretty pretty cuff that takes a lot of work on this sweater, but that must wait until I finally get started on the body. I must cast on 320 stitches. I will decrease to 225 once I am done with the cuff, but my fingers already ache at the very thought. (Not that they didnt do that already, I had an unfortunate incident with a sharp metal thingie earlier)
Have a really nice day
/Lene MultiPosti
... link
Friday, 27. October 2006
Marianne Revisited!!
What I did not share with the blog was, that after taking the picture and contemplating the uber-long sleeves and body, I... ripped. No pictures, it was too painfull.
I took off 3" of each sleeve, and ripped the body down to 4". Then I reknit the whole she-bang, using considerably less yarn - tried it on, and almost went into a fit over how SHORT it was! Solution:
Rip out the double hem, knit another 3" down, add a picot hem (Added bonus: Now all hems are doubled with picots! yes!).
Before throwing it in the washer, it fit quite well as you can see from the picture:
Marianne, Revisited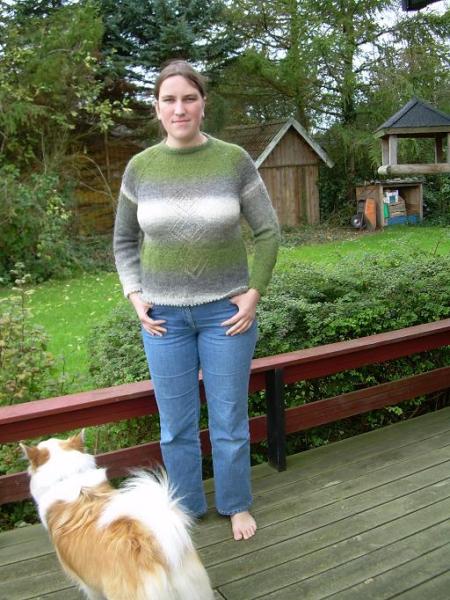 Finally! I love this sweater, and the lace patterns work out way better now, in the shrunken versions.
My only beef with Marianne? It is too loose in the body. I just could not be bothered to rip the whole body out - AGAIN - and reknit it!
Stats
Yarn: Evilla 5/2 in Grey/Green, exactly 288g.
Pattern: My own, entirely, with a faint nod to Elizabeth Zimmermann's Percentage System. Raglan, bottom up, with picot hems.
Time: Since I knit this twice, around a month - three months for finishing it the first time, then it marinated for a few months, and then another week to finish it the second time.
Needles: 4 and 3.5 mm Holz and Stein Ebony needles :-)
Comments: Love this yarn. Love the needles. Now, I love the end product too!!
Following this, I will spend some time on the denim baby sweater - my knitting time is sparse because of the inordinate amount of time I spend rehearsing the organ, and doing houseduties ;-)
Have a really nice day
Lene
... link
Tuesday, 22. August 2006
Voices in my head.
I am sure most everyone has tried this.
The project is going swimmingly, the result is gorgeous, and then someone comes and points their finger at something you just cannot overhear.

Sigh.

If the Den-M-Knit from Garnstudio shrinks like the Rowan Denim yarn, then I must knit an additional repeat of the large cable motif. I was OK with that - after all, I want this sweater to be perfect!

I want it to be perfect, yes... Which is why I had added gussets to the sides. 7 stitch wide gussets, one on each side.

I DID consider machine sewing them away, but reason prevailed.

You see, I have voices in my head... Not any voice, but my grandmothers voice, accompanied by a picture.

She is ripping out half a sweater I had knit, while proclaiming: "You will never be happy with it, it has too many mistakes! Rip before it is too late, and never show remorse at the ripping, you will always be happy afterwards."

She is right. And so I followed the voice in my head, and ripped out several thousand stitches, strenghtening my resolve over and over again with the wise words from my grandmother.


What a miracle! When I had finished ripping and put it back on the needles, my hands, all by themselves, started to knit a row.... It seems I have not lost the wish to knit this sweater, and have not lost my love for this yarn, the pattern or my nephew :-) I let it lie and added 7 repeats to the white shawl edging instead.

Have a really nice night.

Lene
... link
The WIP I hinted at...
Baby Sweater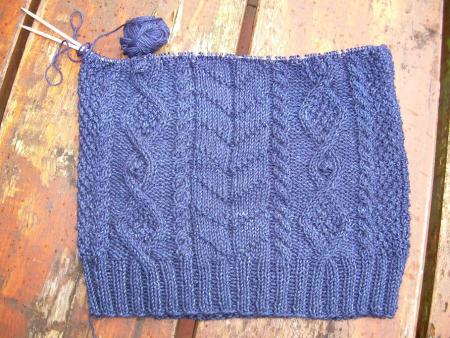 Cuddly, and probably a size 1½-2 years, even though my nephew grows just as fast as bamboo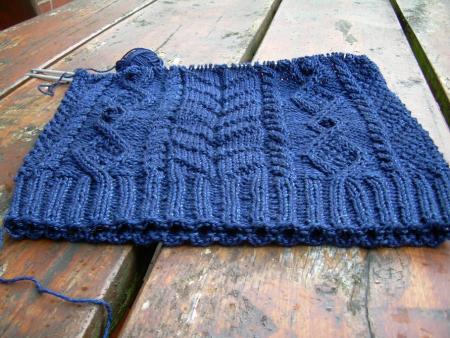 This is the true colour.
This sweaters will probably measure 32cm in the width, and 32 cm to the armholes when it has shrunk - shrinking, because it is an unmercerized, indigo-dyed cotton. I read that it will shrink 20 percent (!!!) in lenght only. I had factored in 15% shrinkage in both width and lenght, but it seems that the piece I have now, at 26 cm, should be lenghtened with another repeat of the large cable (10 cm, or 4"). Gasp. Do I really have to knit 38 cm for such a tiny sweaters? Oh well...
Another issue that I stumbled upon with I researched shrinking, was that I probably should knit the body first, shrink it, and then knit sleeves, shrink them AND some yarn, and sew in the sleeves afterwards. If I were to knit the sleeves down from the shoulders I am afraid that the 20% shrinkage in lenght would make the sleeves look like I knitted them way too wide and sewed them in sloppily just to make them fit. SIGH. I *Could* try my luck at just knitting the sleeves as small as I think they need to be, but who knows if that will do the trick?
I got it on clearance, for just 2$/skein. This was just perfect, because I have wanted to knit with that yarn for a long time, either for me or for my Nephew. It just so happened, that there were 10 balls in this dark blue colour, so I chose to take them home with me and knit something small. Actually, I took 6 balls home with me but decided that I needed more. I got the last 4 balls on that has been marked further down for only 1$/apiece!
This is a Garnstudio yarn, Den-M-Knit, but I was told it was made in the same place as the Rowan yarn. Nice, eh? Quality with a realistic price tag.
The sweater is a little stalled right now, as I am working on the border of the white shawl while I contemplate what to do now - a traditional drop-shoulder, a set-in sleeve, or even a raglan?
I think I want a drop-shoulder, but let me knit another 50 repeats of the shawl edging, and then I think I will decide - because then my shawl is finished.
Have a really nice day
Lene
... link
Saturday, 19. August 2006
Ten steps to a baby sweater.
1. Get to know the parents of the baby. What do they like? Their interests? Their hobbies and dislikes? Will they dress their baby in a frilly dream in pink or rather in a wildly variegated stockinette stitch sweater, or should it be a tiny version of a "traditional" sweater?

2. Play a little with the baby, if you have the chance. What kind of child is it? Does it want to romp and play, needing a lose fit or is it rather a quiet child, where a snug and dirt-sensitive sweater could be fit?

3. Chose the colour. Boys blue, girls pink. You need not follow these conventions, but follow your instincts. Hot red for a green-eyed baby, soft grey for a demure sweater, black for a little blonde or deep green for both genders.

4. Chose your yarn. This also depends on the parents - will they handwash a sweater, or does it need to be carefree? Acrylics are good, but will look "squashed" after some time, just as cotton will - except for Denim Yarn, that just will improve with time and rough handling. Then there is pure wool - there are soft wools, scratchy wools, and wools with acrylics. I mostly prefer wool with acrylics for durabillity for baby wear.

5. Shape. Cardigan, sweater, wrap cardigan? Babies have big heads and will need a large head-hole or a cardigan - this depends on your taste and on point 6:

6. Stitch pattern. Colourwork, knit/purl patterns, plain, cables? A cute kitty on the front or a tiny guernsey? The possibillities are endless, but consider carefully your options, and chose wisely, before you put a kitten on the cat-hating babies sweater :-)

7. Chart everything out! You will not regret this when you see perfect ribs flowing seamlessly into cables, or colour patterns merging together and coming apart in perfect harmony. This is a good practice for adult sweaters, and will make the parents appreciate the sweater even more.

8. Research good ways to cast on and cast off, and use the best method possible to produce even, smooth and pretty edges, and take care to combine your border pattern with your chosen cast-on method for the prettiest possible result.

9. Swatching is not neccesary, but knit carefully and be prepared to rip should it turn out way too small. Too large is not a problem, as the baby will grow. Take care to lenghten sleeves etc. though, as stubby sleeves are worse than too long sleeves.

10. When finished, carefully block your sweater, and take a long look at it. Anything you could improve? Some duplicate stitching? Embroider a name, a butterfly or a superman on it? First when you are totally satisfied, wash it again, block it and wrap it up.


Next post: Steps 1-8 summed up in a UFO :-)

Have a nice day

Lene
... link
Monday, 24. July 2006
Meet "Marianne".
So here she is:
Marianne I
.
Why Marianne
I
?
Because I love the concept, I love the lacy cables, I love the picots and the hems, but I dont love the execution of Marianne (I). The sleeves are way long (And will be shortened... sigh), the armholes are too deep and not wide enough - meaning I should have decreased more of the body before decreasing away the sleeve, plus I carried the lace cables up too far. Even the body is way too long, because of the too-deep armholes.
I gathered a great deal of experience doing Marianne I, so I see a Marianne II somewhere in my future - with shorter sleeves, shorter body, better lace cables and more accurate decreasing.
'Nuff talk, I will show you the fruit of my labour!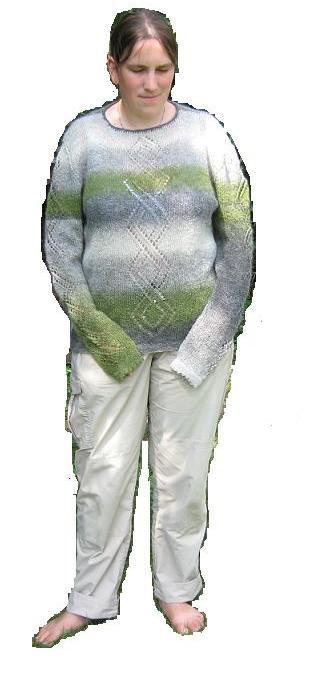 See the sleeves... Never a cold hand anymore!
.
Stats
Yarn: Evilla Grey/Green 6/2 yarn, from Wollsucht.de
Pattern: My own.
Time: June 24 - July 23, as I was not able to knit on it two weeks inbetween, so a bit less than two weeks with other projects inbetween.
Needles: Holz & Stein 4mm ebony needles, and Susanne's bamboo 4mm DPNs.
Thoughts: I might make another (Marianne II), and she will have many modifications. Mainly sleeves and shoulders. Yeah.
Have a really nice day :)
lene
... link
Friday, 30. June 2006
One step forwards...
and two steps backwards.

Ripping out over half a sleeve is not the proper way to "make progress", it is more like... ssergorp. I was making a lot of ssergorp yesterday.
HM :-/

Ripping back to before the status of the first sleeve picture.

Ew!

Worst of all, I knew it was wrong the whole time, but I somehow succumbed to the belief that it might just iron itself out while I continued to knit... That the fact that I could put my arm into the sleeve two times might rectify itself as the sleeve progressed...

Needless to say, no miracle happened and the sleeve stayed as wide as it were, and only ripping would save my sorry ass.

My only solace: It will go much faster this time around now that I know my cable pattern (it is very difficult with just two stitches in one arm), and I have less stitches - right now around 20 less, and I will increase very slowly from here on.

Have a really nice friday

Lene
... link