Friday, 21. July 2006
Little tidbits.
Socks for the Nephew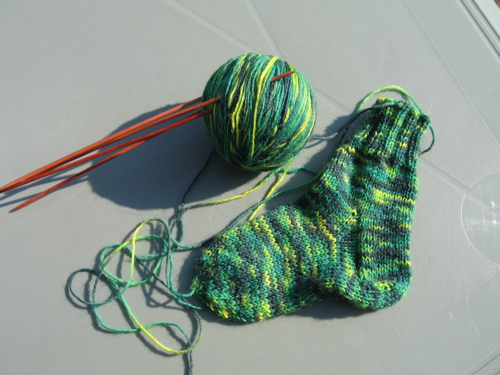 Never let nephews have cold feet. Not even in summer.
My SIL asked me to knit a pair of socks from the left-overs of a pair she knit for herself - while she is knitting some for him from the leftovers of a pair for me... :)
Siiilk... I did a swatch!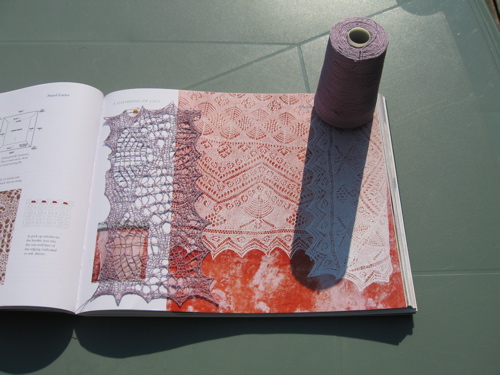 When silk is calling out to you, succumb and let the 30.000 metres / kilo pull out your teeth
I love this yarn. I found it in a small store for 120 kroner, or roundabout 15 dollars. 100 gram cone, 3000 metres. I hope that the Shetland Shawl by Hazel Carter from the Gathering of Lace book will fit the bill!
Marianne!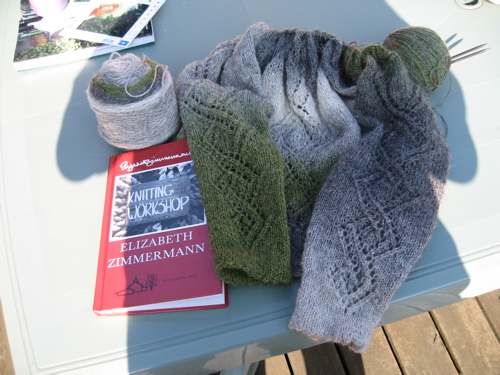 Mmmhh. Good girl. Marianne grows, and Elizabeth Zimmermann to the rescue for a really neat set-in sleeve.
Welcome back to Marianne.
On scout camp she was at home, and when I get her sleeve finished the EZ book was at home when I... was not. So she had a hiatus, but now she is at 2" above the armhole and growing! Yes!
Have a really nice day.
Lene
... link
Thursday, 1. June 2006
Just a few pictures.
I finally got my camera cleared, but had to face the reality: I am a crappy photographer. I really want a course or two in photographing, but the ones offered at the place I bought my camera were offered while I am here in TaiWan! Such unlucky coincidence.
Anyways, first off, my Lornas Laces sock, much too light, in the plane as we are descending upon TaiWan: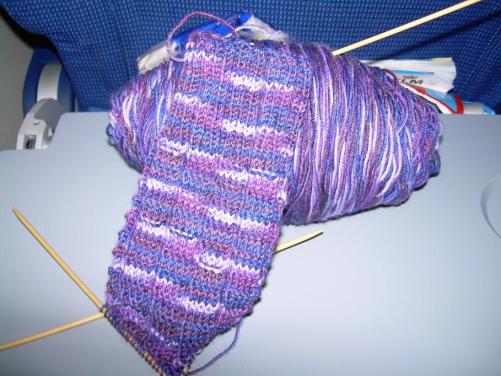 I am making up the pattern myself based on a wide rib as I couldnt be bothered with all those cable crossings when it came down to it.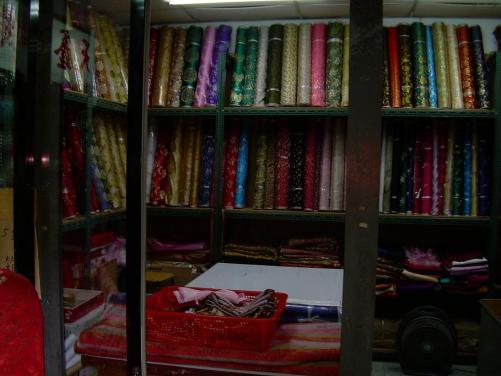 A woman at the hostel where I am living - because my friend lives here - borrowed me a small magazine with articles about TaiPei, and I found this article about the "Fabric Road". Whoa! I went there next day and found hundreds of shops, both in a shopping house and right on the street. This picture illustrates what really caught me: Silk fabrics. I bought 2x3 and 1x2 yards of nice fabrics, at 180 NTD/yard. I might be back for more!!
A few days after that I went to the "ShiLin President Residency", where Chiang Kai Shek lived most of the year until his death. The house is off-limits - i believe it is used for housing official guests - but the gardens are wonderfull and accessible for free.
I was amazed to get to know a fun, but annoying, taiwanese tradition: A few weeks before the wedding the bride and groom dress up - some as mogolic warriors, some as typical western brides and grooms, some like they were on the Court in France around 1650....
Then they take a lot of photographs, to use in a wedding album. Apparently the gardens I was visiting are a VERY popular place to do that, and I had to constantly stop or move because I was standing in the background or foreground of a wedding picture. Pshew.....
I got a much better picture than any taiwanese bride or groom could have yielded me: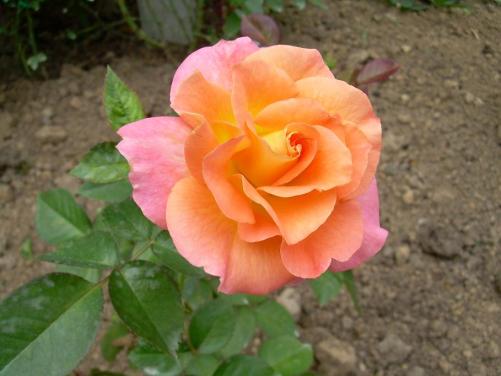 So beautifull.
The last picture is from TaiTung where I roamed a small park with tall mountains - I dont think I really know what i was doing, but I climbed all those mountains and might have left a pound or two while doing that.
There was an amazing wildlife considering that the park was in the middle of the city, just look at this animal I caught with my camera: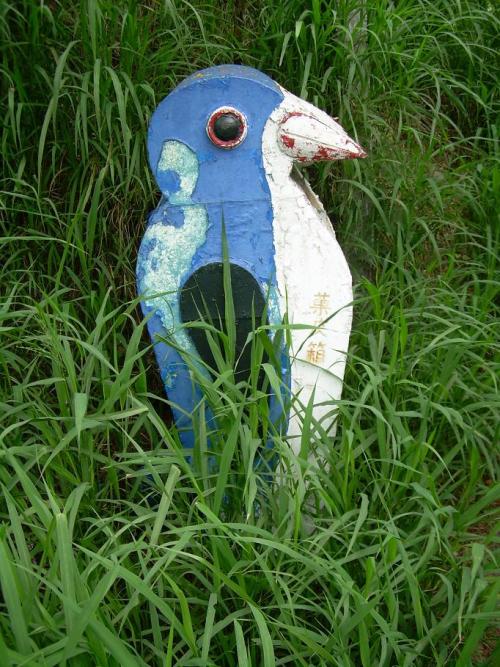 Have a really nice day, everybody!
Lene
... link
Saturday, 6. May 2006
415 Pictures.
I *almost* filled up my 1GB card toay with 415 pictures. This is such a huge number...

I discarded most of the pictures.

Too boring.

Skewed.

Unfocused.

Photographed from the wrong angle.

Irrelevant (The umphteenth picture of someone only I find interesting).

Crowded - lots of things, but what I wanted to photograph isnt to be seen.

I find it amaying that the learning curve on photography is so hard.

I... and now dont faint... want a better camera! This one is so slow that I cant ever catch the good moments of a movement - maybe I just lack the thought process of a good photographer, as in remembering to klick a few seconds before the thing you want to photograph is happening.

How do others feel about such things?
Do they worry as much as I do, or do they readily accept skewed and opiniated pictures? Do others go out and snap 6 masterpieces or am I the only one to make 415 pictures, discard 200 and know that max 5-10 of the rest will ever be watched with pleasure? I was asked to document the happenings on a scout event today and am afraid I will severely disappoint the lady who asked me to photograph when she saw I was holding a camera. If I do so, it is good it was only a small event and nothing major.

Have a nice, beautifull day (and be sure to catch it a bit with your camera).

Lene
... link
Tuesday, 25. April 2006
New things are good things.
My computer started doing funny (Read: Very Disturbing) things like going down at least 5 times a day, not opening my sites and refusing to load more than one page at one time. Understandable though, because in the past 4 years I have done nothing but to load new, weird programs on it...
It was erased 100% yesterday and I am now trying to restore it to its old "glory" (But without the crashing, please).
That was the first new thing, and the explanation for no blog entry in the past two days (Might also have something to do with that my mother had the camera with her.. sigh).
The mailman visited me too, and brought a few nice things.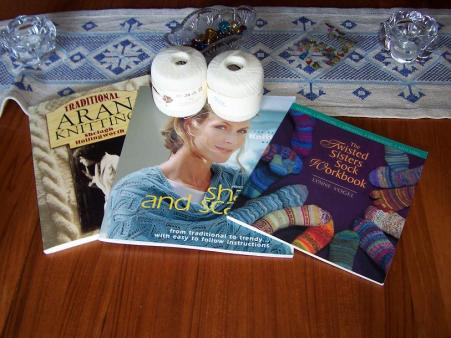 I have not included my mothers 4 50-gram balls of "Merino Lace" in Caramel (3000 metres!) for the "Magical Earth Shawl" from A Gathering of Lace, because she was quick and has already hidden them somewhere.
I ordered those three books from Amazon.de. The two balls of Cobweb Weight Yarn make me sleep good at night, after having been so scared I might run out of yarn on Rosebud. I bought two extra because you never know - and I could make a baby jacket out of one ball, or a sampler scarf.
The "Sock Sisters" book scares me a bit - all that colour, all that demanding creativity, all that displaying makes me feel small and inadequate. Aspergers is very un-creative and dislikes changes, but I want those socks and those yarns, so maybe that wanting will overcome my fear of all that creativity.
The Aran book is a wonderfull resource, and fits so nicely in with my penchant for old things and genuine sources. I am not going to write a lot about it right now, but when I get around to my "Handspun Aran Project" it will be around here a lot.
I had the most fun with the lace book. (I always seem to have the most fun with lace books!)
I found things I want to make: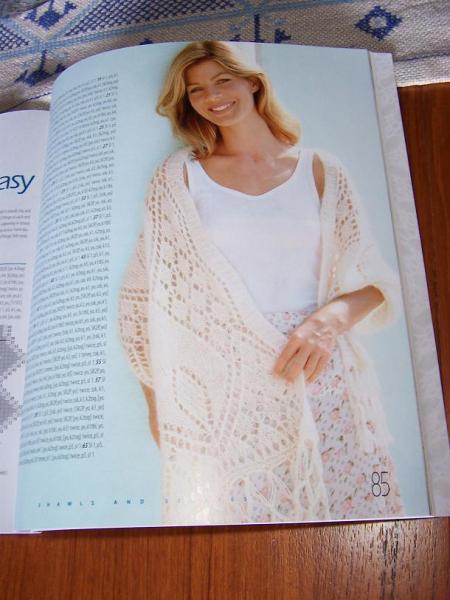 I started spinning for it: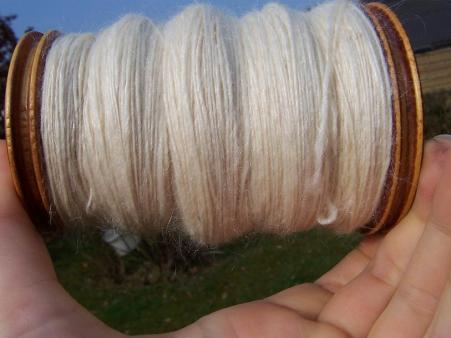 This is 30% Mulberry Silk, 70% Merino, and I got it from
WollKnoll
. I will ply it and hope that the yarn will be somewhere near DK weight - I wont fret too much about that however. My plan is to dye the finished yarn a soft dusty pink and light grey for an elderly woman.
Now, back to the book:
There were elaborate, but yet ugly things: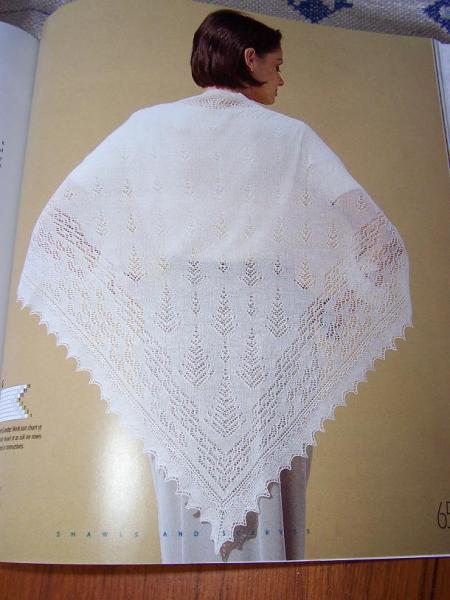 There are many shawls I could imagine knitting one day too - this one because it is unusual and I know just the right recipient for it.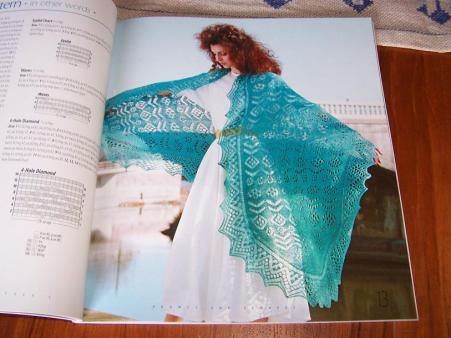 Are you tired yet?
Just one more picture before I stop, it is not even one I have photographed but it means a lot to me.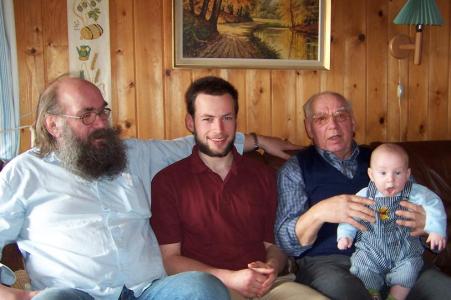 Four generations in our family, Greatgrandfather, Grandfather, Father and son.
Have a nice day
Lene
... link
Thursday, 20. April 2006
I knit for others, too.
Sometimes a knitter asks herself: I am knitting, but for who, and why?
I know why I am knitting. I knit to keep myself occupied and keep my brain from running wild. Now, after having knit for years, I know that I also knit because I love having things I made myself and because I love giving things away (I dont, however, love the fretting out over the possibillity that they wont love my object, and the trying to make a perfect object...)
I have compiled a post with the things I have knit for "Wumse". I am modelling the sweaters while he photographed, but a 1.3Megapixel cam wont yield good pictures. "Wumse" is my best good friend and deserves every one of those knit objects - including the knit elephant from Kath Dalmenys World of Knitted Toys that is just too ugly... and the two miss-shaped pairs of socks. I want to unravel them and bury them, but he insists on keeping them - because they are love. Not everyone has so much friendship and love as he, he tells me, when he can take out the large sweaters I made him and feel the soft wool in his hands, knowing every inch passed through my hands - and many of them two or more times.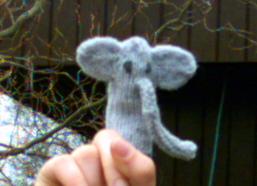 I knit him a finger puppet elephant. Sans pattern and more "love" then "art" :-)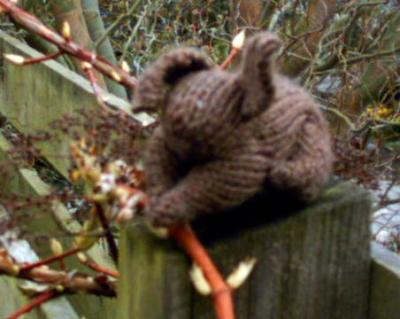 Next up, a rabbit made from a square(!), I think I got the pattern from Heartstringsfiberart, but I know I used a 6-ply sock yarn.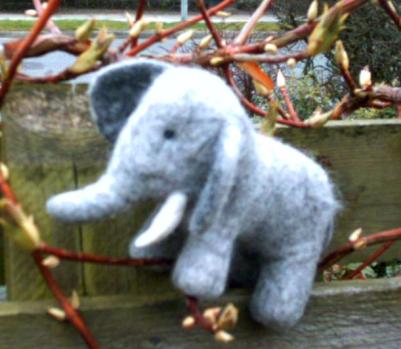 Felt Elephant. Prettiest object I have ever made in felt... I love it so. It stands about 5" tall at the head.
(nearing the Juicy stuff.. hoo boy)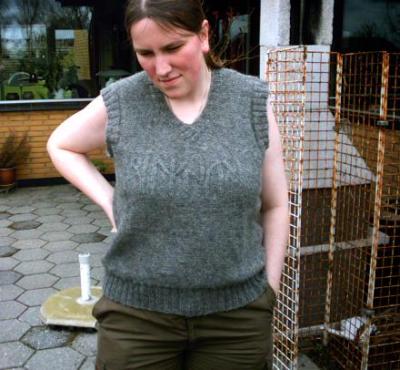 "KysMik" slipover from Elsebeth Lavold's first book on viking knitting, actually, due to a boo-boo on my part, it says "KimSyk". Oooops! He doesent use it much because it is quite small... Again, it's the love, and not the usage ;) I wanted to unravel this (at least the front) and reknit it, because I knit it much tighter and it is much smaller. If I reknit it and knit another few inches at the bottom it might fit.... but he wont allow me!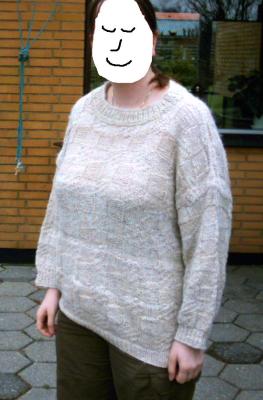 This was the first thing I ever knit for him, and the first sweater I knit. It is made out of naturally variegated alpaca in many funny colours - the skeins all differed a lot. It fits funnily and the cast-on edge is very tight, but well.... I didnt knit for the object, I knit for peace of mind.
I think this one this one is the most perfect of the knitted things I made for him.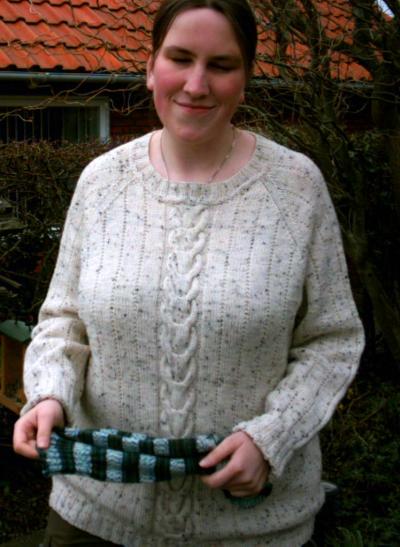 Knit on US6/4mm needles, size "MegaMan" with a horseshoe cable on the front and a corrugated rib all over. He tried to describe this pattern for me when he saw it in a magazine, and told me that it had "Longhorn skulls all down the front". My mother told me it had cactii all down the front.. while I insisted on calling them tulips! We never agreed on the name, but we do agree on that they are well-placed in this sweater :)
The original pattern called for knitting it all in pieces and sewing it together. Sew together a raglan in size MegaMan?? No way that would be going to happen! I love it, he loves it, and everything is good :-)
The socks I am holding are ones I made him too, he uses them much and I love them because they hold up so good. Means I dont have to knit him new ones every year :-)
This is also, and notice this: The First Picture Of Me I Have Liked For Years! Yesss, losing weight DOES have its advantages!
Have a nice day
Lene
... link
Tuesday, 4. April 2006
Ew, ew and double-ewww!
I did take Em's advice today, and took many many pictures, trying many many different positions. I found a crocus in our garden: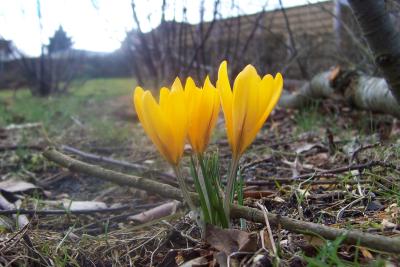 I tried to photograph the yarn from yesterday better: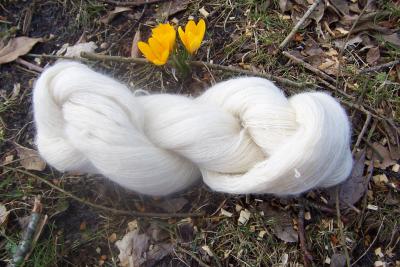 I tried to photograph the difference between that skein and one of the others: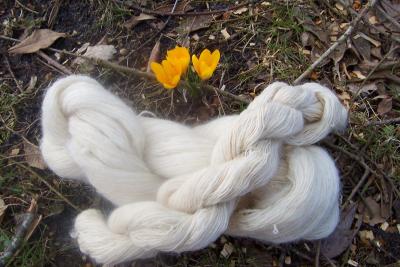 It doesent come out as clear as I would have wished, but loads better than yesterday for sure.
Then I tried to photograph some yarn I am currently spinning, also a laceweight single because the yarn wanted to be that way: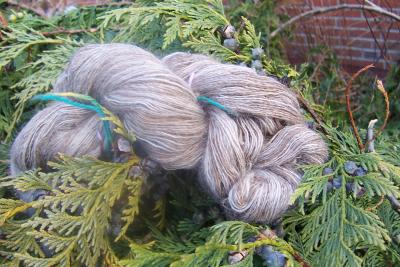 I tried to photograph the roving it was before I spun it up (I bought 2 batches á 100 grams):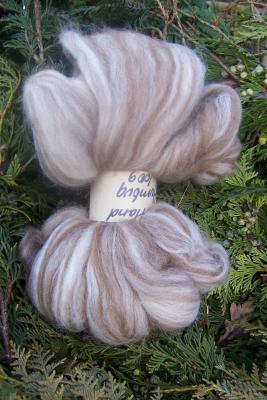 It is called "humbug" because it is made up of different colours of fleece combed together. I like the effect a lot and am looking forward to knit it sometime in the future.
I tried to photograph the yarn I bought for myself from Wollsucht.de: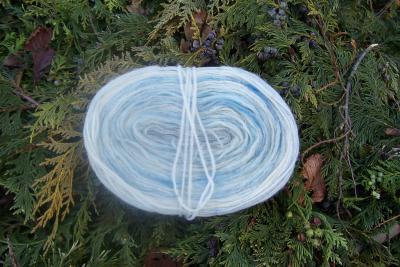 I made lots and lots of pictures, but look closely at them. They are ALL smeared out in the left side. Each and every one. I thought the camera was at fault, and indeed, it was... There was a large spot on the lens. Ew ew and double-ewww!
Plus that it doesent seem to like wool all that much if it is fuzzy, I think it focuses on something I dont want it to focus on, but hey... Now I have proved that it can make beautifull pictures, and will try to go out again tomorrow (It is very cold outside) and take new pictures.
... link