Monday, 27. November 2006
The finished Swap Shawl: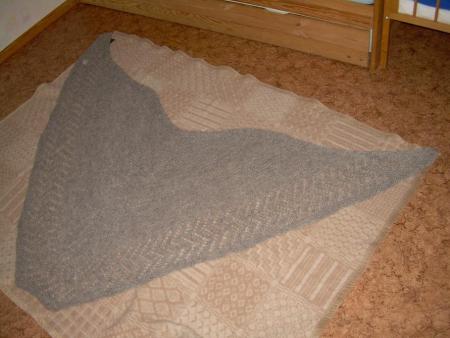 Blocking is Magic! Before I washed and laid it out, it was a bit on the small side - now, I could not fit it on a standard bed (In the background).
I
love
the magic of Shoulder Shaping! See the beautifull curves? Created by decreases when I had but 1/3 of the original stitches left over. Some decrease earlier, but that is what I love so much about these shawls. You can do almost anything, and it will still come out good!
Have a really nice day
/Lene
... link
Sunday, 26. November 2006
All me, all the time.
Yep.
From now on, it is all me, all the time.
No "Other People Knitting" to invade the blog.
I FINISHED the Swap Shawl :-)
Me likey! Fat yarn, fat needles, my favourite shape, a design all of my own and a shiny trophy in the other end - my very own Nisse!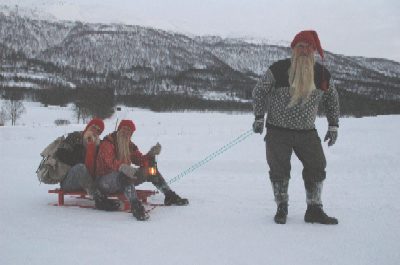 A Nisse is the "Good Spirit" of the farm, and has, in the modern world, somehow changed the job to being Santas little Helper, Thanks to Coca Cola. The picture illustrates a real nisse, my doll will probably look similar.
Have a really nice day while I block the shawl.
/Lene
... link
Friday, 20. October 2006
Beautifull Beatrice.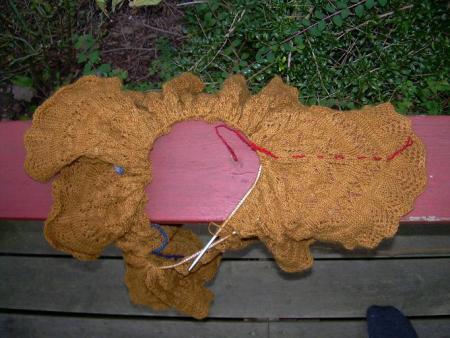 Three rounds of flowers, and then I embark upon a knit/purl pattern of Anchors and English Roses.
The progress is unimaginable. Right now I am knitting along on Marianne (II) - I ripped most of the body and some of the arms, have knit three hours (!!) and have joined the arms and the body! Wee!
In other news: My mother decorated my flat :-)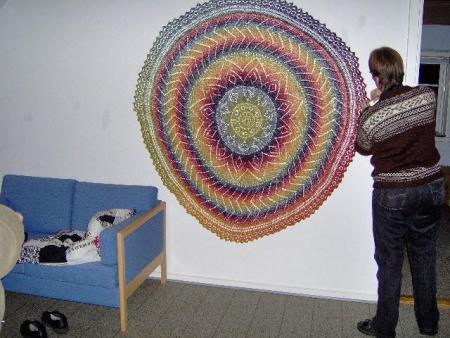 Anyone remember my Pi Shawl in Rainbow Kauni?
She thought that I should hang up my Rosebud (White, flimsy, pretty) un the babyblue wall in my bedroom, but I am indecisive - and I dont think any of my walls are big enough to acommodate such a big shawl.
Have a really nice day :-)
/Lene
... link
Monday, 11. September 2006
Princess Beatrice
ETA: Put in another picture of the edging :-)
32 repeats... Err... 22 + 10 ripped-out ones.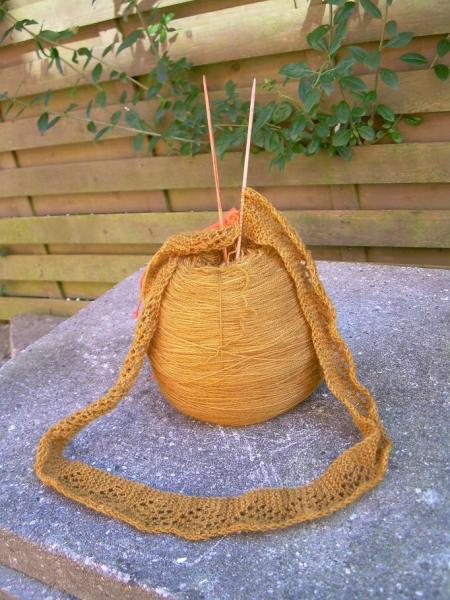 As far as I can gather, this shawl was knit for Princes Beatrice (The young one, not the one who died in 1944)!! I need 120 repeats for the edging... 30 for each side.
Following
this
pattern, using
Lisa Souza's Laceweight yarn in Old Gold
. The colour on her website is not true, sadly, and the yarn was not nearly as variegated as I had expected after seeing other yarns "Up Close". I like it nevertheless, and there is a little variation in this "Solid" colour. It grows on me.
This shawls story was/is quite confusing, and much Wikipedia-ing happened to learn about several princes, princesses etc. The reason: I had one place seen this adverted as the "Princess Beatrice Christening Shawl", another place "Womans Weekly Cobweb Evening Shawl", and then again, plainly as "Christening Shawl".
As best I can assume, the story behind this shawl is as follows:
1) It is an "updated" (Easyfied) style of "Shetland Shawl", knit borders first - possibly by someone familiar with the style, but perfectly willing to let her circulars get a work-out.
2) The person in question has a very harmonious sense of patterns that work together, and is not afraid to break conventions - this I assume because of the purl pattern in the shawl.
3) It is a rather recent pattern. The pattern I have in my posession was written with a typewriter(!), using letters of an old style*. Either the company uses their typewriters for years, or the pattern IS that old.
4) The abbreviations are very non-standard. I have seen others patterns using more "Modern" abbreviations, dating from 40's +.
5) The picture is a relatively good quality.
Using all these markers to sum up "Something", I would think, that this shawl origins from the 60's (?). It is very hard to date, but adding some of the points to the fact that links this shawl(pattern) to 1988 (HRH Princess Beatrice's DOB), I will assume that the person knitting it for the princess did not design the pattern, or at least had made it public before knitting it for the princess. It could be any person who had knit it, seeing as I cannot find a date of publishing for when it came out in "Womans Weekly". It is probably not as recent as 1988?
There are several other patterns of the same style that can be aquired at Jamieson and Smith's homepage, which leads me to wonder if the same woman designed them all? If it became "Fashion" at one time?
I love pondering things like this! I might have made a good investigator ;-)
*My mother worked with typewriters back in the 70's and informed me of that tidbit.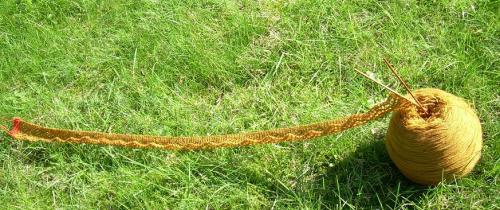 Dainty and fine... Knitting lace on small needles and with a fairly tight gauge is something really special.
... link
Sunday, 10. September 2006
The month of August.
August was a good month. August 3, i bought seven balls of laceweight and cast on for a feel-good project.
August 28, I finished the last border repeat, grafted it invisibly (!!) to the start of the border, fixed the ends and laid out to block.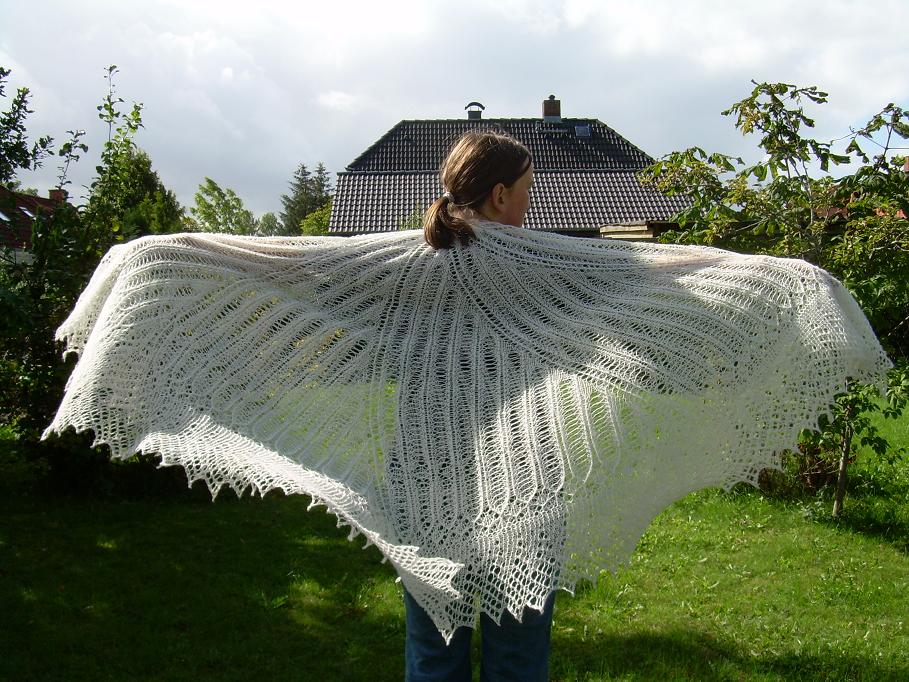 230 cm/ 7"6' wide.
... link
Sunday, 13. August 2006
Look! I am sooo big already.
The white "Spiral Shawl" grows!
White Spiral Shawl"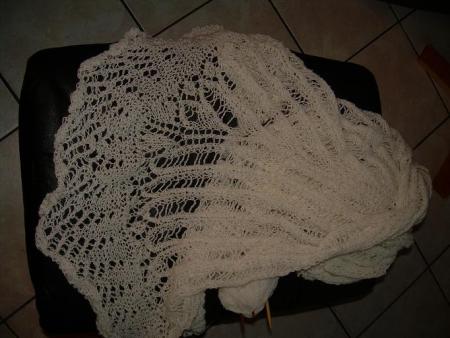 30 repeats of 100 in the edging
I have several ideas for my next projects - probably first a self-designed so-called Gansey for my nephew, and then I might order yarn from www.lisaknits.com for a Garden Shawl :-)
I will cover the Spiral Shawl when it is finished.
Lene
... link
Friday, 4. August 2006
On the Shawl' again...
Back to the grind!
The "secret" project is finished and awaits a photographer and a really cute model now, since I think that it turned out so nicely, that maybe Knitty would want it?
I think I must have turned into a lace bug, since I dont seem to knit anything else - save for the occasional sock or felted bag.
Kauni Lace 7-spoke-shawl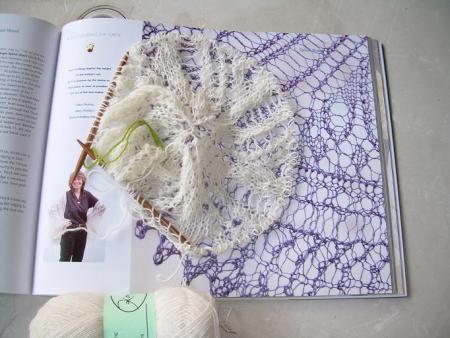 This is from "A Gathering of Lace", and I am just knitting it because I want to knit the border - I love the border.
I wanted to buy real icelandic laceweight yarn, but 1) it was more expensive, and 2) I would have had to drive further for it, so I settled for a yarn from Kauni: 300m / 50 grams and with 10% acrylics mixed into it.
Pure white - yes - it is really an indulgence when you have not knit with something as pure and clean for a long time - even the rosebud was natural white, not white white.
Have a really nice day - I am still trying to recover from the nasty spammer, researching a "Fly Swatter" to implement in my skins etc., so I do not feel up to any long and complicated posts right now.
When I move into my new appartment in Løgumkloster, sept. 1, I hope to feel better and be able to provide both good content and some good techniques.
Have a really nice day.
Lene
... link
Friday, 28. July 2006
Hmm.. I only seem to knit on this weird thingy..
In the past few days I have sat in the sun a lot, but also knitted a little. When I reached a fixed number of rows on my secret thingy,, I had to sit down and calculate the pattern very accurately - because, fudging is easy, but the less fudging you have to do the better the finished object
Thingy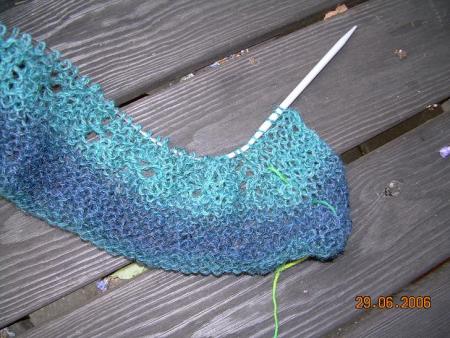 I started lace! Oh!
I combined and changed some patterns I found in a source-book for the lace.
It was not easy, I can tell you! Maybe I should apply for a course on designing, because there must be an easier way than this hard and tedious drawing, redrawing and ripping out swatches.
Nevertheless, here is my chart!
Have a really nice day
Lene
... link
Sunday, 16. July 2006
Sweet, slow days.
Dont you love those too?
The sweet, slow days of summer, when the sun beats down and you sit and talk, sip cool water and knit slowly, put the knitting away and just enjoy the sun.
Days like these have been mine for the last week, and there are many more to come as summer rolls on and the family moves on to the summer cottage.
At the scout camp, I have not knitted many a stitch - a swatch in "Deep Sea" 8/2 Kauni is all I have done.
Nevertheless, the Rainbow Kauni leftovers were knitted into a shawl/scarf - I thought I was knitting a small slightly lopsided triangle shawl, but I had underestimated Myrna Stahmans increases when knitting her "Faroese-shaped Shawl" from Knitter's best: Shawls and Scarves.
I have knitted regular faroese shawl(s) before, but I was really caught with my pants down at the massive increases Myrna Stahman comes up with.
(What is up with her "Designing" anyways? "
My love of lace induced me to switch from Garter-lace to stockinette
". What is wrong with Garter-lace in a shawl-type that was designed to work with a square type of stitching (garter)? All stitches have their space in room and time.)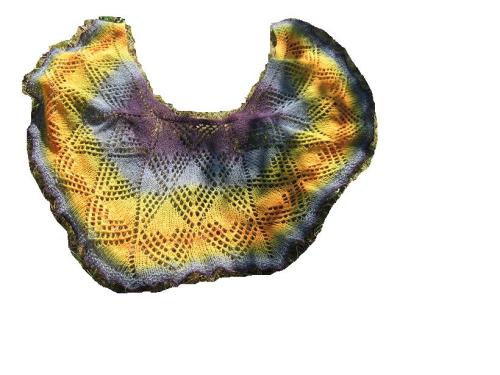 Look, it is a Flutterby Shawl! And in a custom colourway, too!
Stats
:
Yarn: Kauni "Rainbow", two almost-repeats left over from my Rainbow Pi shawl. I started with the larger one at the neck edge, and switched to the smaller one, reversing the repeat as I did so to create the illusion of a continuous colour-flow - it almost worked, there is a tiny bit orange in the middle.
Pattern: "Faroese-style Lace" by Myrna Stahman, in the book "Knitter's Best of Shawls and Scarves".
Needles: Holz and Stein, 5mm. Bought on the Faroese Islands when my mother and I went on a shawl-knitting frenzy - I had brought a 5mm in another project and felt really bad that I was able to move my project to a thread and my mother was sitting without needles, so I walked into a (high-end) yarnshop and asked for "5mm needles, as long as you have them". I got 40 cm needles! :-o. My mother did cast on and knit the whole shawl on it (600 stiches), but we never cease to laugh about it every time one of us use these needles.
Thoughts on the pattern: Well-written. Maybe a bit overzealous on the increases, but well... To each their own. I love traditional things, so this shawl does not "do" it for me, seeing as it is something traditional modified into something that only passingly resembles the original. I still dont remember why I chose this pattern... Maybe because my fingers were itching to start?
I *love* the seed stitch borders! I loved them so much that I chose to add a seed stitch edging on the lower side instead of the large edging on the original shawl. It looks so neat.
This shawl will probably join the Guardsman and the Polar Bear in the "Donation" basket. Plus I feel so good about using up a left-over :)
Have a really nice day!
Lene
PS: Please dont mind the p*rn ads in the sidebar - I can do nothing about them, except for hoping they will go away soon :)
... link
Sunday, 25. June 2006
Such a cheat.
I finished the Rosebud yesterday, took pictures of it... But I am (as usual) not able to upload them :-(
I regret to inform that Dell is quite slow sending me that computer, and this Mac is not suited for picture uploading.
Project stats:
Pattern:
"Rosebud" by Sharon E Miller, of
Heirloom Knitting
, got it as a freebie when my mother ordered her book as my christmas present.
Yarn:
I used the specified yarn, Shetland Cobweb, 6 balls instead of 5. (I used 6 and some more of a 7th, but I had knit a pair of baby botees of the first ball, so I guess 6 would have done it.)
Needles:
Generic grey metal needles, size 3,5 mm instead of the specified 3,25 mm because I wished for a larger shawl.
Size:
It blocked out to 69" square instead of the 80" I had hoped for, but I blocked it semi-lightly, and it is already too large for both of the women I had thought of gifting it to.
Knitting time:
Started March, 10. Finished June, 24. Had a Three-week-hiatus while in TaiWan, and a Two-week-hiatus while knitting Rainbow Pi. For the rest, it has been on-and-off knitting, a few rows here and there.
General Knitting Experience:
I did everything I could to make it harder on me - provisional cast-on, knitting borders
in the round, the cheating way
, graft edging stitches together etc. If it were knitted the simple way, I am sure it would be a lot easier. However, I feel fit to tackle another, more complex pattern now. Maybe accompanied by a recent find (Well, from Friday) in a small wool store, a 100-gram-cone of 60/2 silk from
Star Silk?
By my math skills there should be 3000 metres in this cone, probably enough for a shawl of medium size. (I used 2100 yards for the Rosebud!)
I promise to put up a picture as soon as possible for your wieving pleasure.
I do have one thing about this shawl that puzzles me:
How DO you store this huge, delicate, white, sticking-to-itself-thing? Where WOULD you ever wear it? Why DID I ever knit this (a)mazing thing? I am not worthy!

(My best guess is to fold it neatly with chedar chips inbetween and store it in a paper bag. My mother was strongly opposed to letting it lie on the dining table all spread out. At least it would not get crinkled and lose its blocking there...)
Next Project
I did talk about the Grey/Green Evilla Yarn, didnt I?
After consulting a few reference books I decided to make a fold-up hem at the bottom, and picot hems at the sleeves, and to cast on 200 stitches. All well and fine, but after 2" it began to be urgent that I chart out the pattern I wanted on the front and on the sleeves. It is a very simple lace cable. On the front it is 21 stitches wide and will not change shape or size, but for the sleeves I charted a similar cable that starts quite narrow but will widen as the sleeve and my arm widens. It took a bit of trial-and-error, but apart from that I decided to change the soft turns in the cable to sharp ones, I lucked out in my second try of charting it. Charting the sleeve lace was child's play after that :-) I am blessed with a very good visual and geometric sense, which explains my ease of picking up how to chart and ow to construct a pattern.
Currently, this sweater is at 60 rows / 12000 stitches after I started it around noon today. If I keep up this pace it will be finished by saturday, but it is not every day that you sit outside on the deck in wonderfull sunshine, eat strawberries and knit for long hours.
Have a really nice day
Lene
... link