Thursday, 23. November 2006
Collecting Christmas Presents.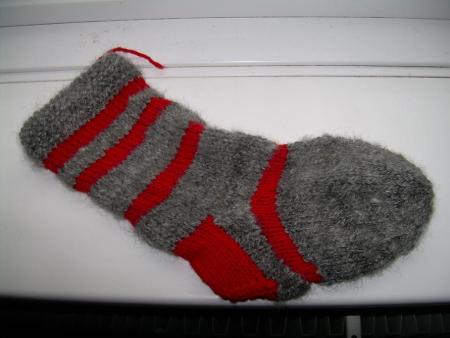 This is not a Christmas Present. It will be swapped for several.
Handspun wool (The grey), and a small leftover of worsted (The red). I used all of the red, sadly, and did not have any for the toe.
Oh well.
The lady who ordered these had just a few general specifics: She liked stripes, little FI patterns, red, grey, and handspun yarns that smelled of sheep.
Well, here is a red/grey striped sock with one yarn a wonderfully sheepy-smelly odour. 4 out of 5 is not that bad.
I will send this off when I have washed it (swished it in cold water a bit) and gently blocked it. Dont want to take away the nice smell.
Tonight I will be soooo sore... I have ridden "Mogsy" today, and will probably ride "Smut" later in the evening. Mogsy is big, cute, 100% stable (Even though I have already succeeded in falling off him), and Mogsy is little, fat, quick and has, uhm, his own mind. I have only ridden him twice - both times in jeans(!) - this will be the first time in "Adequate Clothing". Interesting. Then a weekend with the scouts, and I will be all ready for a relaxing week in my own flat *grins*.
Have a really nice day
/Lene
... link
Tuesday, 14. November 2006
Cabled-cuff Christmas Stocking.
As promised, here comes a (rought draft of a) pattern for this stocking: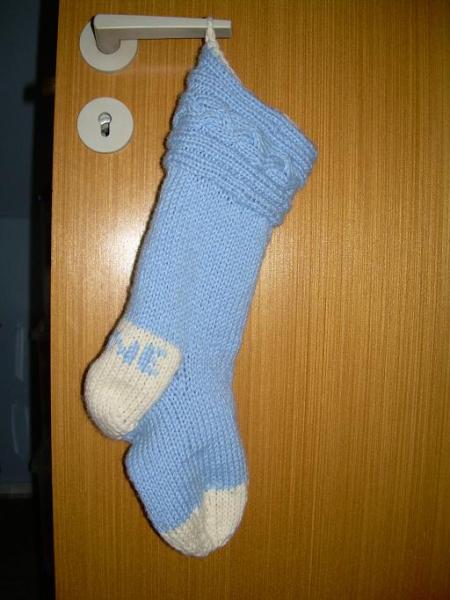 Supereasy
I started by chosing two colours that I liked, and came up with a blue WOTA and some white worsted from my starting to look meager stash. I chose the worsted because the colours were good and because it would be a relatively quick knit.
Then I determined what pattern I wanted to use. The ribbing is quite stretchy and looks fun, but I think an entire wowen strip of cable would look fabulously, too!
I CO 24 stitches (2 selvedge stitches, 16 stitches for the ribbing, and 6 for the main cable), and knit a strip that was "long enough", slipping the first stitch of each row to create a nice chained selvedge - good to pick up stitches in, and good to crochet in - or just plainly leave as-is.
Turns out, "long enough" was 72 rows. It fits around a medium-fat leg, and the whole sock is not much larger than a womans X-large sock - but it stretches.
Then, using Main Colour (Though using a contrast colour would also have been nice) I picked up one stitch in each selvedge chain, distributed these 36 stitches on three DPN's and increased three stitches on each DPN to avoid having a very skinny stocking.
This is where you could put a nice colour pattern on the sock, but I opted out of it as I had reasons to think I wouldnt get more than a round done a day, and really wanted it finished before December!
When I had around 14grams (½ ounce) left of my 1-5/8-ounce-ball (50 grams), I knit a square heel over 26 stitches and 16 rows, dividing it 7-12-7 and finishing the heel. Then I used the blue again, knit until I had *almost* ran out (Had three yards left), switched to white and knit a toe.
The reason for the wide and "wonky" heel is, that it is more roomy that way. Looks more "Stocking-y" that way ;)
When finished, I thought that it was missing something, and decided to embroider my name on the heel in light blue.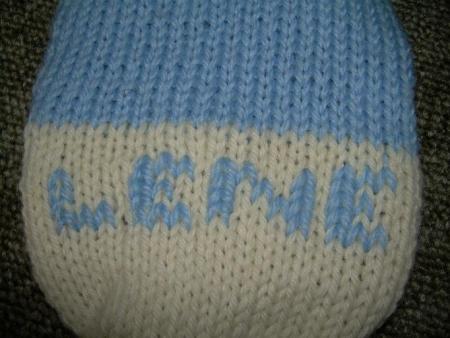 Do make a chart if you do not have one already, and use markers
For the last finishing touch, I crocheted a small edging around the top, and made a loop to hang the stocking with.
Overall, this was a
very
quick project, and most was knitted in front of the computer.
I now have two orders on Christmas Stockings because I showed them that stocking - oh well, when the first one was so much fun, then the next ones must be even more fun, right? ;-)
Have a really nice day
Lene
... link
Sunday, 3. September 2006
Sunday Socks.
Here is another pair, knitted by chosing planlessly among the tiniest leftovers in the left-over bin. There are 7 different yarns in the very colourfull one, and 5 in the other one. Among other yarns there are yarns from: Opal, Faroese Sock Yarn, Regia, Some yarn from an unraveled sock I had when I was a kid, and leftovers from socks my brother and SIL own.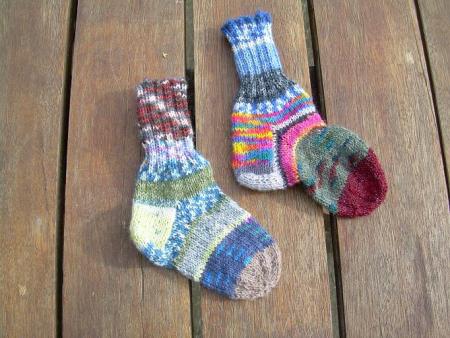 Same game, 23/24 size, but a shorter leg, seeing as the previous pair are almost knee-highs.
Have a nice day
/Lene
... link
Saturday Socks.
I started at 10 am, knit through the whole day - and finished at 7 pm.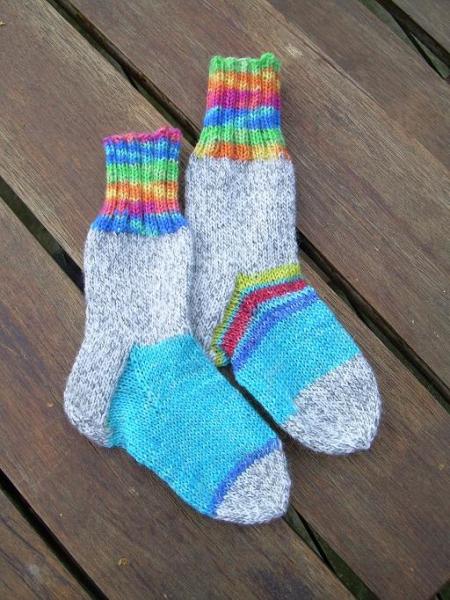 Socks in size 23/24 for my Nephew, made out of leftovers from baby socks and socks for my sister
Have a nice day
/Lene
... link
Monday, 24. July 2006
Socks!
Nephew Socks
Remember the lone green sock a few entries back? Of course, I finished the second, and here they are: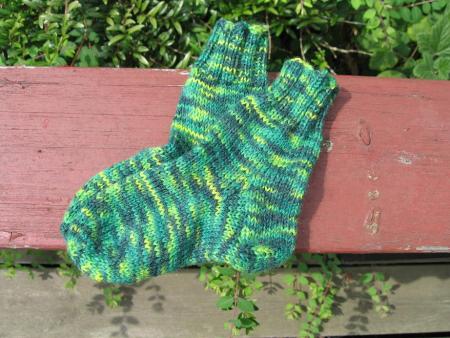 One sock, two socks, now Nephew will not freeze at the current temperatures! (Not that he would otherwise, it is 30c+ in the shadow.
Lene :)
... link
Wednesday, 21. June 2006
*SHRIEK*!!
The doorbell rang, and the postman handed me, quite unconcerned, a smallish package. Certainly not large enough to be my Dell Laptop, so might it be...
Lots of stickers on it, semingly coming from America, and in the edge it featured a little sign: Sock Pal.
SOCK PAL!! SOCK PAL SOCKS! Squeeee!! Quick quick, open up, shaking hands, are these really my socks? How will they look? Rip rip, ooh.. Fire-truck-red socks, very bulky, quite long, and certainly roomy and long enough :) They are in fact a bit too long, but hey, it _is_ hard to guesstimate when knitting with such large needles and thick yarn.
They are not too long anymore! *Bwhahaha*
They will be house socks from now on, I already adore them because it really is less-than-warm today in Northern Germany. :)
Phew... I am so happy.
Also in the package were four postcards, "WeeWonderfulls" by Hillary Lang, featuring patchwork dolls, each with a title describing the mood in the postcard.
I got "Meticulous", "Ingenious", "Industrious" (The doll is knitting! Awwww) and "Mischevious". There is a website too:
Wee Wonderfuls
.
Thankyou a bunch Sock Pal, and I hope you did not put too much of a strain on yourself.
Have a nice day everyone!
Lene
... link
Tuesday, 30. May 2006
Holy Tooth!
First the knitterly news: The Socks Are Back In Progress!
The Cherry Tree Hill Supersock in Potluck Earthtones progressed well beyond the heel on the train ride from TaiNan to TaiPei tonight (which means, by the way, that I have conquered all 2654 km. around TaiWan on train! Go Me!), and am so enjoying knitting again even though I was tired.


The TaiWan Travel News: I "saw" a Buddha Tooth today - it was hidden in a box and behind closed curtains - but I got to put my hands against each other, to sacrifice 10 NTD (New TaiWan Dollar - roughly 1 euro to 40 NTD) and recieve a red envelope with a picture of the tooth, pretty taiwanese writing and quite a handfull of candy.
We were at Fo Guang temlpe between TaiNan and GaoXing, which is probably the largest buddhist temple in TaiWan. It is incredible! Art abounds, and the food they serve for a few NTD is some of the most incredible vegetarian food I have ever tasted. I even got to try to Calligraph in a large calligraphing room - very serene, and very hard.

Have a really nice day! :)

Lene (Dubbed "Helen" because Japanese only can pronounce Len....)
... link
Thursday, 11. May 2006
Travel decisions.
Well, now I cant deny it anylonger: In 4 (four) days, I will sit in a plane and lift off. Destination: First China, then Taiwan. 14 hours, if my time conversion is correct, on a plane. When I was in Texas in 2001 (wild and crazy story) I was sitting in a plane for 9 hours, I wonder how it will be this time? (I dont remember much from the actual flight TO Texas, I think I slept or sat staring out the window in a haze).
Last night I finally decided to bring socks as my travel knitting.
More specific, socks of the yarn
Em
sent me, two skeins of Lornas Laces in "Purple Club" and Cherry Tree Hill Potluck in "Earth" colours.
I took down
Knitting on the Road: Sock patterns for the travelling knitter
because it seemed to fitting to me. Plus it is the only book where I could hope to find patterns for these "weird" weights of sock yarn! (No offense, its just that sock yarn is VERY standardized in Germany).
For the Cherry Tree Hill I chose the "Spey Valley" pattern, both because the yarns were almost identical, and because I have wanted to knit this pattern for such a long time.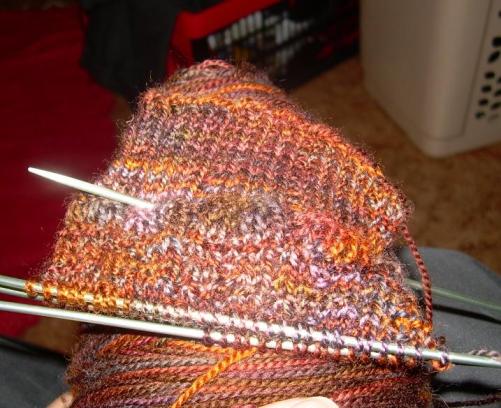 I started them :-)
For the Lornas Laces I chose the "Conwy" pattern. I think I will be using 2.5mm (1US) bamboos for this and take it on the plane as the other sock is on 2.25mm (0US) metal needles, and I dont want any problems to arise.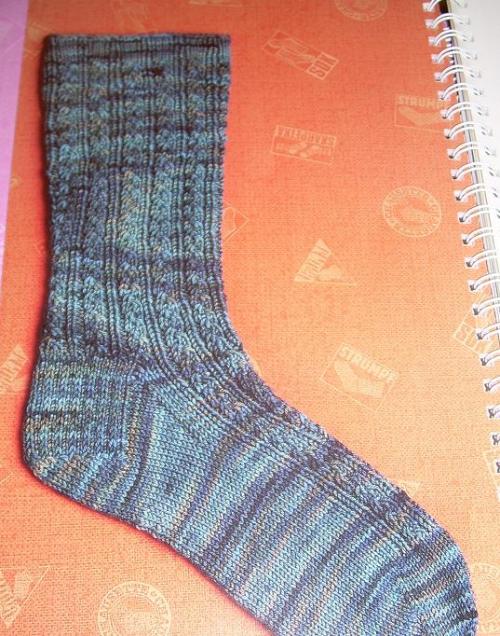 Mine will be purple though :-)
I really like this book and have knit one other pattern from it, the "New England Stockings" which I love and adore even though I chose an unfortunate yarn - it shrinks.... I might gift them to my mother as she has small feet (I have a womans size 11).
I got a mail from my Sockpal that my socks are underway! I am very happy and dont mind a bit that they are late - it must be the big size knitting taking longer :-)
I have been playing around on Ebay.co.uk a bit, after following a link to a Jean Greenhowe book (and being smitten by knitting bags.. aww).
I didnt BUY a knitting bag though, but I have bought Jean Greenhowe books!
First, "Jean Greenhowes Irresistible soft toy designs" which arrived today, and second, "Toy Collection" including the Topsy Turvey doll pattern!
A few patterns just jumped at me, especially because of the incredible photographing (can you see the buried bones? the tulips the dog ripped out of the soil? See the feeding bowl?)
There is also a little kitten sitting on a chair with some knitting... a "Puss in Boots", a frog family and the sweetest little basic shape that can be a pig, a rabbit, a koala bear and much more!
Speaking of taking pictures and showing pictures...
One of my pictures from saturday was in the local newspaper! Along with an article on the event... The only one not happy was my little sister because it showed her being imprisoned by two guards (Was a medieval themed market place setting).
... link
Thursday, 6. April 2006
Sock-a-pal-ooza socks finished.
My parents invited me over to their cottage for the easter holidays - I do not yet know how long I will stay there, but it was the reason for my non-blogging yesterday. I will try to send some text-only posts as the old computer over there does not accept the camera.
I did try to photograph the Sock-a-paloooza socks today, and got one good shot - too bad the background is not entirely desirable.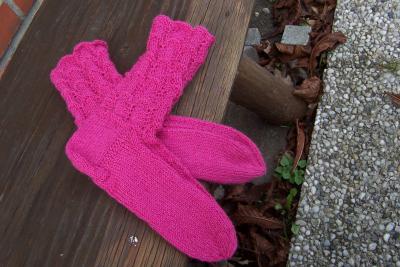 Blogger minimizes everything and fuzzes it out which is really a shame. I used a wave pattern and knit a womans med. size. The pattern I used was so mediocre I almost cant believe it.. sheesh. Good thing this pair of socks is not the first one I have knit, more like the 50'st :-)
Near my parents cottage lives a woman who has a small(ish) spinner's flock of 10 ewes with their lambs - currently around 25 animals. My mother went over there and picked up the fleece from a shep that she had also bought last year, but what a difference from the luscious sherling fleece to the even more wonderfull grey adult fleece! Three times as long, three times and beautifull and soft.
She also picked a fleece out for me - I had requested a "black" one, but sadly she only had one left, a very small one. After skirting it there are 1330 grams of it, but there was so much I'd have liked to throw out because it didnt meet my requirement of "perfection"! It will do, however, and bring me closer to "My Dream Aran" which is handspun out of black wool following either the
A.R.A.N.
pattern, or the
Son of ARAN
, but ultimately I think I might go with a large braid of honeycomb cable as the main, a few smallish cables in the sides (maybe a horseshoe cable?) and the
FLAK sweater
, because it has saddles... :-) I dont like horsehoe cables as the main motif. It will be black/brown (which is inevitable with sheeps wool, unless you dye it or go for Karakul or Såne, that might give you pure black.. its just that I dont like the feel of their wool). The wool I got isnt coarse at all, but I hope it will stand up to abuse - and give me the amount of wool I need.. :-)
Have a nice day
Lene
... link