Wednesday, 31. May 2006
Samus arrived.
I forgot to write about Samus, the nice litte cardigan I was knitting for my friend.

I gave it to her when I came over here, and she immediately decided that it was just perfect for winter! No sweater for my mother, which is perfectly fine... mother can knit for herself! The sweaters arms are a tad too long, but it is not bad and can be remedied with blocking.


I am still waiting for news on my socks and the Jean Greenhowe book I ordered from Ebay.co.uk, hoping I will not be one of those needing a sock savior - after all, my sock fairy sent me an email saying she was sending them off!! :)

Have a nice day
Lene
... link
Thursday, 25. May 2006
Peep!
I am a shamefull knitter, a really bad knitter.

I forgot both socks at the hostel in Taipei when I left there (or rather, chose not to bring them, which I regretted as soon as I positioned myself in a train going down the taiwanese east coast).

I have severe knitting-withdrawal, but I do not think it is possible to get yarn anyhere in TaiWan, and if so, only in TaiPei where I am not going right now.

Another bad thing is that with no knitting or book to take up my mind I feel the full blow of loneliness. Hits me hard, as I seem to be the only backpacker chosing the cheap places to stay and really wish for someone I could talk with, instead of talking TO and hoping they understand the basics of what i am trying to tell (like, I want the CHEAPER room, I am not going to pay that much for a room with a bed and no bath, when I can have a room without bed (but matresses... sort of) for much much less....).

Enough with the ranting. I wish I could show pictures, but I left my cable in Taipei too! (Not on purpose though).

Have a nice day

Lene
... link
Monday, 15. May 2006
Goodbye for a while.
Until I return from Taiwan I doubt that I will update this blog a lot - I update it at all. Maybe a sock picture every now and then :-)

Have a really nice time, and ejoy yourselves as I in 1 1/2 hours will be going to the airport.

Lene
... link
Saturday, 29. April 2006
There is magic in knitting.
Now, I think we all know that there is magic in knitting - each in our way have we discovered the magic knitting holds for us, and the ones we love. Not trying to proclaim that knitting is "The One and Only", but...

In olden days, knitting could be a way of supporting ones family. Just this fact alone makes me stand in awe at anyone who knits, and loves it.

Knitting produces wearable objects of sticks, string and imagination - it creates art, hardworking clothing, irrestible lacework and soothing comfort all with just a change of material, mindset, and way of working stitches.

There is magic in the repetetive movement of the needles and yarn, from the back to the front and back again, round and round (or back and forth), hundreds of times, repeating the same movement infinitely. 4000 times for a hat, 13000 times for a sock, 60000 for a shawl, 80000 for a sweater. Imagine doing the same thing at work 4000 times one day, and the imagine knitting a simple hat. Now, will you believe me when I say that a knitter is almost unbearable patient? maybe you dont think of yourself that way, but think of all those stitches and tell me one other branch of handicraft, except for crocheters, who could stand doing the same motion again.. again... again... 4000 times one evening. Amazing.



Knitting is a ever-growing web of linked loops that will unravel easily if you find the right end, but is strong and flexible if you dont... and you very rarely will.

Much in the way of a family, or a friendship - everything can be unravelled, but even though it is unravelled it will never be the same again, the yarn will have kinks and show what it used to be - be it sweater or close friend.


There is magic in the talent displayed by the knitters - the unimaginable variety of different patterns created just by knitting, purling, making extra stitches and crossing stitches. Try to examine two garments knit by two different knitters, with the same yarn, the same needles and yarn - they will not be the same, nor could the ever be, which leads me to...

Knitting is magic because it is the act of someone weaving their caring and thinking into a garment which is a rare thing in our modern world - hundreds of years ago the making of an elaborate shirt or other article of clothing could mean en exclamation of love and affection, or even the promise of marriage. Still today knitting elaborate presents is linked to Love and affection, just think about the "Boyfriend Sweater Curse" - knitting a sweater for your sweetie as the sure way to scare him off? Maybe, or maybe as a sure way to show your affection and love for him in a way that may very well last forever if carefully stored and looked after.


I did alot of thinking about it while knitting the "White Stole" which has now been dubbed the "Bad-ass pattern from Hell", because the chart is not easy to knit from - Very small, very crowded, and has no help lines, as well as only numbers on one side of the row. I only got around 40 rows knit today, probably because I had to recheck every row at least 5 times to be sure I was doing it right.

I like this stole and will knit it because the yarn is un-rippable, and bestow magic also on this piece of knitting, bestow magic on the recipient and on myself, the giving and very capable knitter. I dont say that about myself a lot and really BELIEVE in it, but it MUST be true when I look at the things I have knit through the years.


I will wear my brown handspun alpaca stole tomorrow, publically, for the first time ever! I think it will look smashing over my light pink tee and denim shirt. Paired with black boots!

I think we all need a bit of black in our lives :-)


Have a nice day

Lene
... link
Saturday, 15. April 2006
The postman came, delivered and left (me speechless).
Em's package came today!

I wrote up a lenghty entry before Blogger ate it... sigh.

Let me recap: I got a wonderfully wrapped package from the postman today, and inside there was all kinds of wonderfull chocolate, tea, a bit of chips and a chocolate bar (?) called "Tree Musketeers". I might need to find Alexandre Dumas's book before I can start to taste it. There was Godiva chocolate and some 0% fat pringles!
There was also a wonderfull letter on a beautifull card with embossed leaves and Em's name on it. She had included 5 beautifully coloured stitch markers, two sandals in blue and three stars in red, blue and green respectively.

There was my yarn (KPPPM in turquoise with hints of blue, purple and green), LL in "Purple Club" and, the thing that made my heart beat faster when I took it out, "Cherry Tree Hill" Sock-yarn in a bargain package - a 4oz skein in a random "Earth" colour and a sock pattern from Fibertrends written for three yarn weights in a pretty mistake rib pattern. This yarn is SO rich, so many colours, so soft, I think I might have died and gone to heaven.

Have a wonderfull day

Lene
... link
Friday, 24. March 2006
So many things
I did knit up to the 165 rows on the Kauni Pi Shawl today, but we were at a little workshop offering felting, and I hadnt brought the pattern I had chosen for edging (I really thought I had packed it, but I hadnt.)
I chose the "English Lace"
Here
.
EDIT: I started knitting it on, and was very pleased with myself until I had completed two reports: The edging what charted backwards! I was knitting the pointed edging onto the shawl while the plain side was pointed outwards. I might have been able to see that it was backwards had I not been half asleep, but really... who would chart an edging with pattern rows on the wrong side? I think I need to E-mail Sarah Bradberry from Knitting-and.com to ask her what mare rid her, and if she is going to correct the chart... But I'll be nice ;-) After I have slept on it!
I was a bit crafty today and cut, polished and laquered a piece of coconut to make a "hair thing" out of it. It is quite large, and will fit nicely with my chestnut coloured hair when it is done.
Tomorrow I will take a picture of my shawl with a bit of edging :-)
Take care of yourselves,
Lene
... link
Wednesday, 22. March 2006
New yarn has arrived
Do you know
Jeanettes Rare Yarns
?
This a fabulous E-bay store that sells Rowan, Jaeger, Debbie Bliss etc.
Mostly British, but also a few european brands - but all luxury yarns for an affordable price. A few days ago I was surfing around trying NOT to be tempted, when I happened upon her store, remembering the three balls of KSH I bought there with FREE shipping (They are a "Kiri with modifications" now).
Long story short, I could not resist the 1-kg-bag of Jaeger Shetland for 45$! She has plenty of ones for 55$ too, in many beautifull colours, but I am 1) a cheapskate and 2) very fond of the colour the cheapest pack came in.
This picture is very close to the real colour: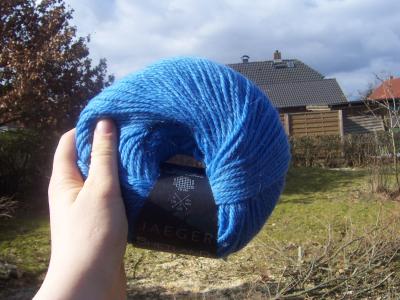 Yummm Jaeger for
Samus
PS: My hand isnt small and lumpy. It's the angle that does it.
... link
Sunday, 19. March 2006
Hell-oh!
(I love that bastardization of Hello)
I want to keep this weblog for two reasons.
For one, to document how Knitting Keeps Me Sane - an Aspie trying to get by in the real world, and how the knitting can take up so much that otherwise would be stored.
The second reason: I want to document my knitting, my yarns, my happiness and my disappointmens for time to come, to be able to look back and rejoice in past moments and forever keep a documentation of given gifts and ripped objects.
I do not expect anyone to read this documentation, (nor do I really expect myself to have the stamina to continue), but I have started this, let me see if I can carry it on.
Because everyone wants to see pictures, here is one of a much-loved Icelandic Yoke Sweater, knit with PlötuLopi of unknown origin, and from an ISTEX pattern.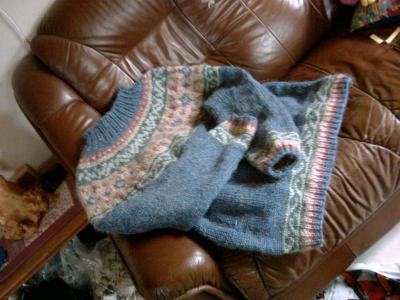 Love, Lene
... link