Wednesday, 22. November 2006
When everything else fails...
Buy Yarn!!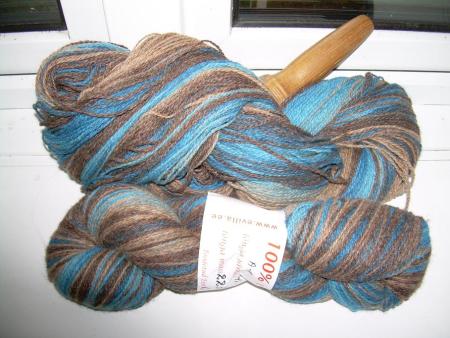 The colour is a smidge too light. In reality, I shrieked when I saw it, grabbed a skein and held onto it while babbling of summer, lighter and darker skies, beaches and rocks
Since
The Yarnharlot
shamelessly promotes
Fleece Artist
products, it felt like a good time to show off a bit with the fabulous new store that has opened in the next city:
Wollsucht!
Wollsucht
used to be just an onlineshop with (many different kind of) sock yarn, Karen Noe yarns and two estonian self-striping yarns.
Now, she carries NORO... DEBBIE BLISS... GARNSTUDIO... Many many variants of the Estonian selfstriping yarn
Evilla
.
Going into that shop is like entering a candy store, stocked with all of your most favourite stuff.
My mother jumped on
this yarn
, a muted/dusty rainbow, close to a worsted weight despite the numbers that indicate a chunky yarn (I think....)
She immediately cast on for
Dibs on Ribs
, an Interweave Subscriber-only Web Exclusive pattern. I had printed it for my yarn, and she stole it *weep*. She hit gauge with it immediately, so I guess it was just not meant to be - until I rework that pattern to fit with my gauge :-)
I am, on my bare skin, wearing a Faroese-style Shawl I knitted out of the "
Deep Sea
" 8/2 Evilla yarn. As a child developed hives when clad in anything wooly, that says something about the qualities of this wool (And my stubbornness!!)
I must get as much wear out of it as I can until Christmas where it will go to live with my grandmother.
Funny thing, that. Not at all what I wanted to blog about - grandmothers.
My maternal grandmother has always been there for us, and we live just 100m. away from each other - that's just shy of a 2oz skein worsted weight yarn. When asked to draw her, we would
always
draw knitting or crochet in her hands (or pancakes...). She is mostly knitting now - not for her family anymore since my mother and I do that - but for Charity. Sweaters, blankets, baby sets, scarves etc. for India. I woved to keep her supplied with yarn until the day she died, and until now, I have kept that promise - all kinds of kind people have donated old stashes, unwanted yarns and ripped-out projects. She brings it all together and creates beautifull things right out of her mind, with an astonishing speed.
Seen in that light, I am so proud and happy to give her, 80 this year, a faroese shawl, crafted as best I know to with a superior yarn in a shape she has oohed and aahed over since we first introduced it, coming home from the Faroe Islands with WIPS in our hands. The colours are
her
colours. Deep blue, turquoise and dark turqouise.
I have not presented it on the blog, true, because I was hoping to submit it to
Knitty
, but I managed to make the pattern disappear and dont really care about publishing it anymore - as long as my grandma likes it, I think all work and hassle has been work it a hundred times over.
Have a really nice day - and appreciate who loves you, remember to love them back in bunches.
/Lene
Edited 26/11 to fix some faulty HTML!
... link
Tuesday, 10. October 2006
The big disadvantage.
The biggest disadvantage of living in your own flat: There is no garden to take pretty pictures in :-(
(There is one, but I wouldnt want to walk in there without asking my neighbours, so I dont.)
Aaanyways. I did really get started on my spinning project!
The wool comes from a naturally grey sheep, one that had to wait quite a time for its shearing. Luckily, it got its shearing, even though the owners wife wanted it to land in the pot. Errr... Owners EX-wife. The outer part of the fleece was totally felted and had to be cut off from the long and soft wool on the inside.
On the first glance, it was solid silver-grey, but as I started to spin it I found both white and black areas, and almost all colours inbetween.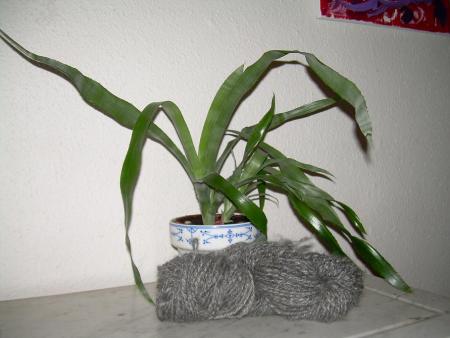 Artistic, no? The yarn is three-ply and roundabout worsted weight.
I will be spinning more of this, both in grey - probably one skein - and several skeins of brown/black wool.
Beatrice!
The edging was finished even before my fictive deadline last thursday! :-o. Of course, there was immediate stitch-up-picking and knitting. At present, there are 13 rounds all in all knitted. Stitch-wise that represents the edge one more time!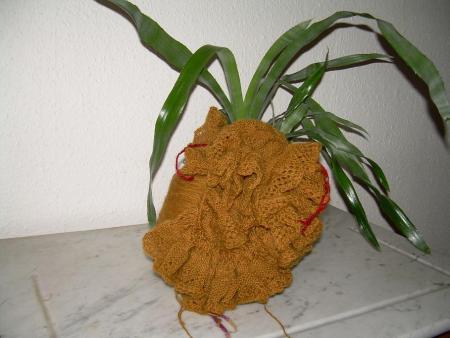 Plants growing out of yarn - I thought I had proved that it was the other way around!!
The first pattern is finished - namely a round of small flowers. Next up: 4 repeats of the Horseshoe pattern.
This shawl I am knitting on a 40 cm needle - one should think I am rooting for the title of "Craziest Knitter of the Year" - re. my knitting another shawl on a needle the same lenght, with a finished stitch count of 700+. With a yarn thicker than this, too, where I crammed 960 stitches (ideally, maybe more, or less *grins*) on the needle.
Swap
My swap is not one people can join in on, really, although it makes me think that there should be a website where people could offer to make something and make a wish for something in return...
Wait, off track. Back.
At a spinner's meet this weekend, I met up with "Birthe" again, a person I have met regularily at the last few big spinner's meets these past years. We got to talking about shawls, handspun and the like, and about the absolutely beautifull dolls she had brought with her to sell - both entirely knitted (With the most adorable embroidered features) and knitted/sewn. Those were made like "Steiner" dolls, if that rings a bell with anyone?
We talked and talked, and suddenly she said: "I SO want a shawl out of "this wool", but I couldnt/wouldnt for the LIFE of me knit one!"
I punched her on the shoulder and exclamed: I could knit a shawl for you, and you could make a doll for me! She was very excited at that prospect (just as I), because she loves making those dolls and has done so for over 10 years.
She will be sending me the yarn shortly, and I have already found a pattern I think she will like. (Found = made up). Really, I am on the recieving end of this swap, as she provides yarn for the shawl, yarn for the doll (Troll-Doll), knits the Troll and provides postage. All I have to do is to sit back and knit! :-)
(Aint feeling bad about it though. She proposed to do it that way, she can afford it, I cant.)
Have a really nice day
Lene
... link
Saturday, 5. August 2006
Kauni, the lace yarn.
The makers of Kauni also make other yarns - like a solid, 90% wool, 10% acrylic yarn, both in 300m/100g, and 300m/50g.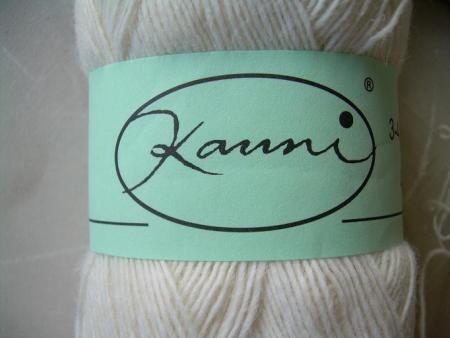 The softness and whiteness that it Kauni One-ply Lace
The yarn is very soft, almost merino-soft.
It is not plied very tightly, but seems to hold up well and I would not suspect it to begin to pill. Not that pilling is that common a problem with lace shawls, anyways :-)
It has a nice stitch definition, and "fills" in a pattern nicely, as I knit it on US8/5mm needles, but still it feels and looks good.
The colour does not get dirty easily, and the resulting fabric is a dream of softness. This is so nice to touch and look at, I am really in love :-)
Progress
I am at around 60 rounds of the shawl. That would be around half of the circumference needed before adding the (very wide) border. This is not enough to warrant a new picture, though.
It is so lovely, and I enjoy it so much to sit down outside and knit until late in the night here in the warm august nights :-)
have a really nice day
Lene
... link
Tuesday, 9. May 2006
Denying.
I live at my parents house, in the room Ive lived in (almost) since the house was built 20 years ago this fall.
It is on the first floor, and thus has one wall that is a 45 degree angle. To make a good use out of this room, that side of the room has three large closets and the head end of my bed (see picture).
The leftmost closet was originally made for hanging clothes in - just that I have never used it for that. It has always been empty... and it has a little secret too! In the back of it there is a 10-yo-girl-sized hole that leads to a secret hiding place... :-)
Now, I had this thought of knitting a cardi and wanted to see what I was hiding in there - having thrown one bag of yarn in there after the other, all the while exclaiming to my mother that SHE had WAY more yarn than I!!
First, a picture to explain: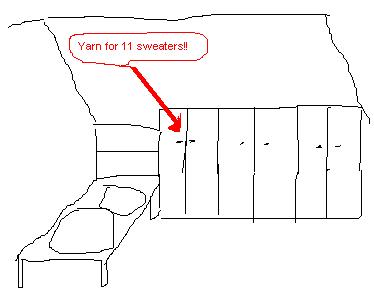 Well.
I have a wall o' boxes as well:
One for sock yarn (whole skeins.. the leftovers are somewhere else), one for "luxury leftovers" (Kauni, Silk, felt, luxurious fabrics...) and one for "scrap leftovers" (not scrap, but not luxury either!). That's a 2pound ball of white NZ wool beside the boxes.
Underneath them there are three more boxes, 23,5" x 16" x 16", one with spinning stuff (mostly wool), one with handspun mostly and one with "yarn". In the "yarn" box there is enough yarn to make three sweaters in ONE kind of wool! Plus a few other nice skeins, smaller amounts etc.
One vintage Phildar Yarn, a very weird yarn, a faroese 3-ply yarn in grey and lots of worsted weight WOTA and Peruvian Highland Wool in nicely coordinated colours.
Then comes my Closet Of Shame.
Wool. For. 11. Sweaters. In. A. Size. 50"!!!!!
1) 3 cones of navy Guernsey wool.
2) 9 hanks á 100 grams white WOTA
3) 700 grams CC220 in teal.
4) A White Lies Design kit for
Laura
, which I had knitted up to the bust area once but discarded as it looked horrid.
4) 800 grams "Bali" cotton-blend yarn for a Rebecca design that involves crochet! I havent been able to persuade one of the crochet mavens around me to crochet the neckline and sleeve collars yet, so it is on indefinite hold.
5) lots of differently coloured balls of "Merino 2000", a DK weight Merino yarn, which I picked up when my favorite LYS held a "We're moving sale".
6) Peruvian Collection Alpaca, in Sand, 1kg, have knit two sleeves but abandoned it because I didnt like how the body was coming out in the
Dancing Vines Tunic
. I just need to find a nice pattern for the body, I have sleeves.. :)
7) A bag of "Jil Colour" left over from the Wumse sweaters, natural tweedy colour.
8) Sock yarn, 500 grams, halfway knit up in a ripping candidate.
9) 2 pounds handspun spacedyed wool
10) 1kg Jaeger Shetland in a pretty mid blue.
11) A bag of white worsted wool with no labels on it anymore...
Ow.. I anticipate laughing at me when my mother reads this. She will never let me forget that i have way more wool than she has!
Good thing my recent Ebay escapades have only involved books/patterns....
Have a nice day :-)
Lene
PS: Too bad I was late for Stash-Flashing, I think I might have been able to make some nice pictures :-)
... link
Wednesday, 3. May 2006
Yarn in the mail!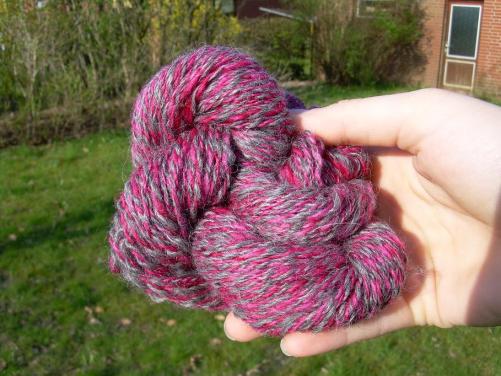 Sometimes the mailman brings very unexpected things in the mail, like this skein of yarn. When I found the padded envelope in the mail my first thought was "SOCKS"!!
No socks, but a little handspun skein from a danish spinning aquintace. My mother had bought some large cones of silk yarn for plying on Ebay.de, and this lady bought one. To save the postage I delivered it to her when I was in the town anyways - and now she sent me this yarn.
Who would have expected someone to be so kind and send yarnto someone just playing the courier?
This is one ply natural grey alpaca and one ply pink dyed corriedale - it is sooooft, and shines wonderfully. My quick-and-dirty-skein-measuring came out to 110 yards, roughly sock/sport(?) weight.
Lacking a quick-and-simple project because I am procrastinating my Samus Sleeve, yesterday I cast(ed?) on for a skinny simple scarf and will knit until I run out of yarn, which should be soon.
Have a nice day
Lene
... link
Saturday, 1. April 2006
Yarrrrrrrn and a bit of happiness.
First af all, I didnt expect all those kind and wonderfull replies to my shawl, which was also posted here:
Here
. Try to take a peek at all the comments, I couldnt believe it that every time I opened my mail box there were 5-6 new replies.
The shawl is wearing really well, I almost havent taken it off since it finished drying, and it hol me warm and snug now in this "dont want to wear a large sweater but it is too cold for just a tee" weather.
It was really nice to see over at
Em's
, she has put a little link to me in the sidebar with a few kind words about my shawl.
Thanks Em!
Today I also went and got a large grocery bag full of yarn. It was so full, that when I sat in the car and wanted to take a skein out to look at it, three other skeins jumped out in my lap.
There was a large skein of
This
, two largish skeins of
This
(we vere lucky em, she's completely sold out of it now). There were also three skeins of
This
, a skein of
this
, and finally, two wheels of
this
, though she has taken the colour down that I have bought - it is a dirtyish white with light and dark blue.
The first three skeins are for you, Em - they smell a bit funny of some herb or other, I guess it was to keep the moths away, but I will hang it in the fresh air (if the rain ceases) before I send it off Monday.
If the Villa yarn is not enough for a sweater vest, you could always knit a shawl for your grandmother, or try to combine it with another sport weight yarn.
The wool/linen yarn and the green/yellow Kauni was for my mother who wants to knit a summer sweater, and needs the green kauni for a coat she is currently knitting.
For myself, I bought the unspun yarn because I wanted to try it, see how it felt and explore its possibillities - maybe spin it, knit it as-is, use as a felt accent when handfelting, who knows what can be done with it?
After I completed my shawl I have hit a bit of a knitting slump. I am craving colours, colours, colours, but the three projects I am currently working on are all in one, solid colour.
That would be
Samus
in a nice stretchy 50% wool / 50% acrylics yarn, slim-fit, for my friend that I am going to visit in Taiwan for a month from May 15 - June 12. I would have loved to go earlier, but my nephew will be baptized May 14 and I couldnt bring it over my heart to miss that.
I am knitting it in a lavender-ish colour, and honestly... This is both the first and the last time I am going to knit with that yarn. It is consisted of 12 tiny plies, and when cabling I often only get half a stitch, and st. st. flat has ridges because the yarn is so stretchy. I hope it will turn out to be a lovely sweater anyhow.
I am also knitting a pair of Sock-a-paloooza socks in solid pink. I dont like pink, and I dont like the lace pattern I am using - though I know my pal will love it.
More lace: The
Rosebud Shawl
in 1-ply cobweb lace. I have most of the centre pattern knit, but the Rainbow Pi came in the way and took me to a beautifull land where large shawls grow :-)
Currently I am forcing myself to knit a few rows of sock every day, and for Tv knitting (I seem to avoid the Tv.. hmmm) I knit a Samus sleeve.
Slow, but steady, I guess?
Pardon me while I go and play with my unspun yarn. I'm so unfaithfull to my knitting.
Have a nice day
Lene
... link
Thursday, 23. March 2006
Progress and Yarn Swapping
This: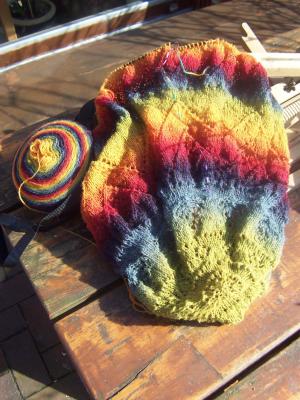 Is now at round 153 of 165! After that, I will add a border in the round and it will be Fi-Ni-Shed.
I found a nice blog yesterday
(The Yarn Miracle)
, and oohh, she was hosting a Lornas Lace Contest! I tried to bribe her into letting me win, but we've settled on swapping some yarn, I will send her Kauni, and in return I recieve 4 skeins of this:
Lornas Laces in "Shadow", Sport Weight, 4 skeins :-)
I am very pleased!
... link